Back at the day job yesterday after the long weekend and my colleague, upon asking me what we'd been up to, was delighted to hear we had in fact ventured past the boundary of our bubble all the way to Mugdock Country Park for a special project (you'll see soon!). I told her not to worry though, we made up for it ten fold by heading straight to The Finnieston for cocktails and oysters afterwards. 'How very West End Wendy of you', she said. Cheeky Carrie.
So, sweatpants and heels. Why not? I've been after a pair of cuffed joggers for a little while and, honestly, not knowing how much wear they'd get, I was not keen to spend a fortune and then these from H&M popped up. Contrast stripe, cuffed hem and not your usual material – all bonus points that had them in my (virtual) basket. I harp on about Zoe Karssen, I know, but honestly this tee really has stood the test of time and I fall back on it for casual day and evenings out alike – the quality is perfect. And the leather jacket that feels like butter… butter is always good – especially when you're diggin' the whole laid back sporty vibe.
Eat, drink, sleep (minus the heels).
…
leather jacket – Todd Lynn @ Debenhams
tee – Zoe Karssen (similar) :: sweatpants – H&M
heel – Daniel (similar)
clutch – Kurt Geiger :: bracelets – various
leash – Ancol :: coat – Infindigo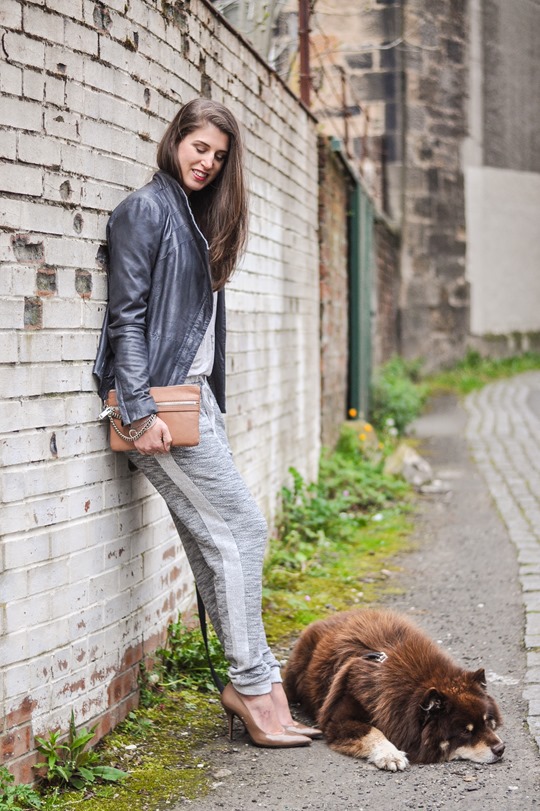 P.S. Thanks to all of you sweethearts who were worried about my eye – it's almost better now and I have decided never to do washing ever again…