This week the most curious thing happened to me. I was at the checkout in the supermarket when the cashier asked me when I was due. I replied telling her I still had almost four months to go, to which she said, 'Gosh, you're stout already'. Stout?! STOUT. So I started to wonder, Carrie Bradshaw style, when did it become acceptable to comment on a pregnant woman's body? And why do people find it socially acceptable to do so when commenting negatively on a regular person's shape would be ill received and considered rude?
In fact come to think of it, towards the end of my previous pregnancy, around seven months, the husband and I went to Ibiza on a babymoon and, the very same day we created this post, an overweight man by the pool said to me, 'Wow, you just get bigger every time I see you'. And frankly, no matter how many times someone lovely tells me I look great, it is those negative comments that stick and replay in my mind.
Pregnancy is a tricky time and my relationship with my body this time around has been far from loving. Firstly, I feel somewhat betrayed by its inability to cope (see this post) with something so natural and, secondly, things have moved, quite literally, a whole lot faster. My bump appears to be an unstoppable train taking my belly button along with such force I have to secure it 'in' with surgical tape most days and when I look at photos from my first pregnancy it would seem I am already a similar proportion as I was at two months further on last time. Does this mean I will look eleven months pregnant by the end? Or will I just get there a whole lot faster?
In any case, however I look, I cannot help feeling that this is my journey with my body and not open for public discussion (I of course see the hypocrisy in publishing a blog post on the matter). Just as it is not okay to tell an overweight person they could use to shed a few pounds or to say 'Oh, you're soooo skinny' to an underweight person, it is equally not okay to comment on pregnant bodies. We go through a multitude of physical and emotional changes in an extremely short timeframe and, quite frankly, there is not a heck of a lot we can do about it. Those changes will happen whether we want them to or not. Whether we are prepared for them or not. It is nature. And if anyone tells me I look 'ready to pop' (perhaps my very least favourite of all the regular pregnancy comments that are bound to flood in over the coming months) they better be ready… for my fist to pop in their face.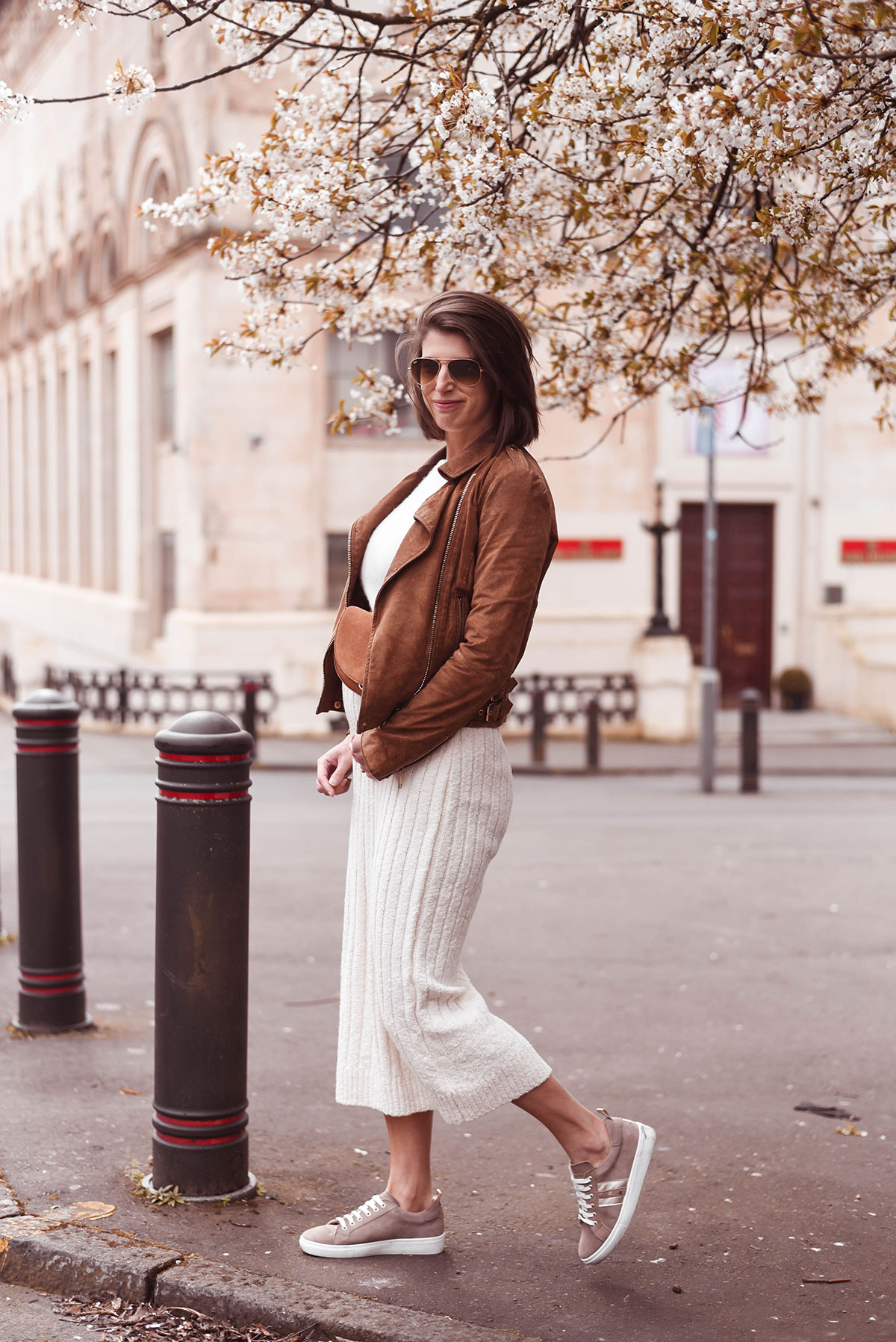 *Denotes affiliate links
OUTFIT DETAILS
suede biker – Mango
knit – Finnieston (gift 2018)
skirt – Free People
allie sneakers – Mint Velvet* (gift 2019)
avaitors – Ray-Ban*
sam saddle bag – Mint Velvet* (gift 2019)