Sometimes Thankfifi brings me the most incredible of treats and this, a first taste of the Uniqlo x Lemaire SS16 collection, is one of those moments.
It's probably fair to say I have something of an affinity with wide leg pants and these are no exception. Can we just talk about the fact that they look super chic yet are simultaneously some of the most comfortable pairs of pants I own? This whole collection has Uniqlo's ethos at its core – easy to wear, simple sophistication. Made from beautifully selected fabrics like oxford cloth, seersucker and chambray, for me the real beauty of the pieces is in the silhouettes. They bring volume but are completely wearable and have that easy wear anywhere anytime vibe. Combine this with the elegance of Parisian design thanks to Lemaire (former creative director of Hermes) and we have ourselves a timeless collection of stand out pieces that seem to fit somehow into any season.
And then there's this deep v…
This v and me are going be friends forever. She's just the right depth of v, bringing a hint of sexy without being showy, and that knit… it's the kind of knit that holds its own. I don't even know if that makes any kind of sense but I tried to capture the true detail and structure in some of the shots because the quality is nothing short of beautiful.
This forms the final Uniqlo x Lemaire collection which is bittersweet. All the more special and yet the last chance. The colours are simple yet striking (think black, white, mustard, ginger and navy), the cuts incredible and the fabrics tread the line where comfort meets beauty. If you hadn't already guessed, I am in love.
Available first at Uniqlo.com March 3rd at 11pm – www.uniqlo.com/uniqloandlemaire/uk/ and in selected stores from March 18th.
…
milano rib v neck sweater & oxford wide pants – Uniqlo x Lemaire
aviators – Ray Ban | bag – Furla | venus heel – Reiss
coat – Infindigo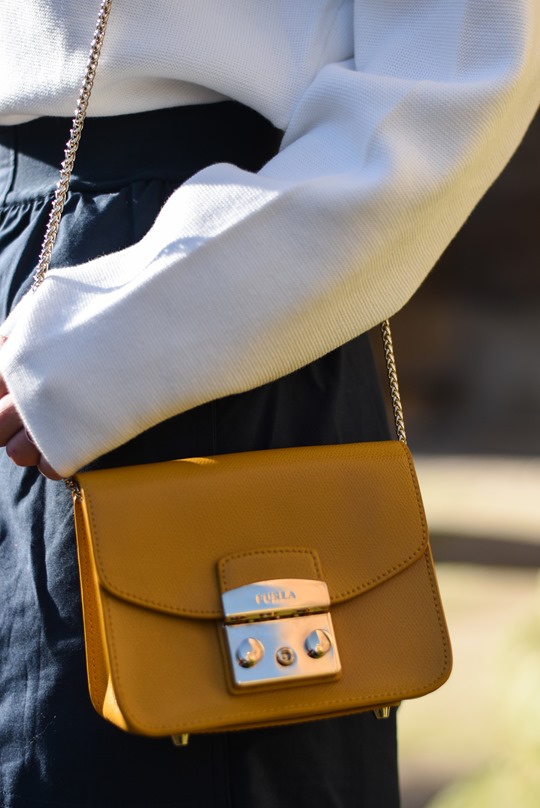 With thanks to Uniqlo for supporting this post.