Aaaand breathe… High, high in the French Alps, the highest in all of Europe, lies Val Thorens and a week of bliss. We flew to Geneva, picked up a car and started the twisty drive up, up, up into the mountains, arriving in darkness at Le Hameau du Kashmir.
Waking up that first morning, sun streaming into our Kashmir style chalet apartment, it was almost hard to believe the snow out there. Peering out the floor to ceiling windows and over the balcony every surface was literally covered in the glistening white stuff. I know, I know, the highest in the Alps, but it's April and sunny and there was just… so much. All week, so much snow. And sun. Before I tell you all about this incredible place let's just say this – if you're even considering going skiing this season and think you've missed out, go book this place right this minute (skiing till May) and I'll just wait right here for ya to get back.
Ok, back to this dream apartment… that big fluffy cloud bed and the solid wood sliding doors… all the natural wood detailing in fact and my favourite, favouritest spot, that balcony – just hanging there, suspended by his giant chunky wooden arms, poised looking right out at those snowy Alps, all day, all night, the most perfect view. You all know I love the beach but from this balcony I decided I might be just as happy to grow old with a view of those mountains. It's hard to put into words just how they make you feel. (Scroll down for more…).
…
silk pyjamas – Asceno
See that terrace right there? That's Le Yack, that's where you're gonna park yourself to watch sunset apres ski and that white stuff right next to it? That's the piste. Now there's 'ski in ski out' and, for anyone who's even experieneced a 2.4km long, 1m wide, windy little stony snowy path back to the digs, this 'ski in ski out' is on another level – right on the actual piste. Amazing.
We spend pretty much all day up the mountain and after about 7 hours skiing your body starts to feel a little tender from time to time. Turning another year older doesn't help, those achy, old lady knees belong to me now, oh yes. But Le Hameau du Kashmir has this spa… you slip into your robe and slippers (first thing I do when I check in anywhere is throw open the closet doors searching for robes – BIG brownie points) and toddle on down to the pool, which incidentally, is also right next to the piste so you got dem views… Ten minutes in the sauna and you can melt into one of those loungers in the Espace Détente, birdsong floating through the air, and if you're not already asleep you'll most certainly be nudging your snoring husband, who is…
…
Honestly the details throughout this place are just gorgeous – the cutwork wood panelling around the bar, the traditional Kashmir rugs and intricate silver plaques… it's cosy and spacious both at once. It's in the perfect spot in my favourite place in the Alps for guaranteed snow, it's warm and beautiful and it just feels like home. Perfect.
…
off shoulder dress – Asos | leather legging – Boden
boot – Frye | suede tassel bag – Next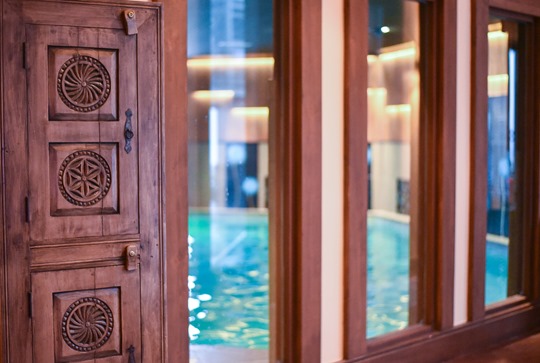 With thanks to Le Hameau du Kashmir for such a wonderful stay.