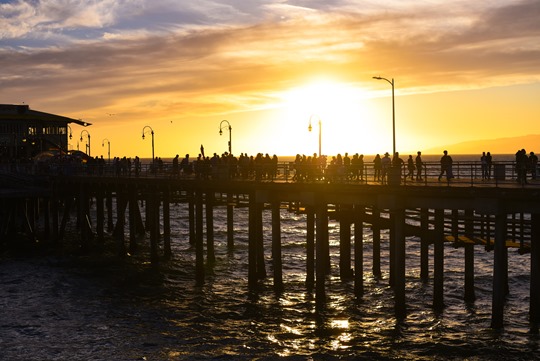 It's true what they say about those LA sunsets…
Flying into Los Angeles gave us another three hours jetlag to contend with but also a slew of palm fringed sunsets and endless kale salads as well as the chance of sand between our toes. Between meetings and events we had one day off and honestly I can't think of a better place to have spent that day than in LA. With zero time to research I asked my friends in the know (aka my instabuddies) and started the day, on the advice of one Miss Rachel Phipps, at Joan's. Well, that breakfast was so good we knew we had a kindred spirit and pretty much visited every stop on her must do list (thanks Rachel), with a couple of extras thrown in, because palm trees and sunsets and all that. So if you happen to find yourself in LA for a day, here's how it went down…
Breakfast at Joan's on Third. The best atmosphere, food (I went for the salad bar, Fi went for a lobster roll special and we took a peanut butter choc cookie to go), the interior, the coffee. And we were lucky enough to score a seat outside under the trees…
Shopping on Third. I spent all my pennies on a dog made of newspapers in New Stone Age. But we also loved Plastica for random design pieces, Juice Served Here for the fresh juice and rose water and Monserat de Lucca for stunning leather bags handmade in store in LA.
Then we took a cab to Abbot Kinney; self proclaimed 'the coolest block in LA' – correct. (Use pj2pm for a free Uber ride on me). And then followed more…
Shopping. Might as well set aside a couple of hours for this street. I'm not going to list the stores because they were all amazing and I loved that each one is completely unique with many being in little wooden painted houses literally oozing cool. Concrete floors, light bright spaces. And it's well worth spending some time exploring the alfresco alleyways too. Ok, ok, my absolute favs were The Modern Dog, The Piece Collective and Urbanic.
Lunch at Lemonade. For a very cool canteen-esque salad bar sandwich lunch (hello beetroot with toasted hazelnuts and seared tuna) and the best natural homemade lemonade. Cucumber and mint please and thank you.
Stroll past the street art and painted fences down to Venice Beach and get the sand between your toes. The beach is wide and white and lined with palms. We hired turquoise cruiser bikes with no brakes (and a basket on the front for my newspaper dog) from a store on the street just opposite the skate park and cycled along the bike path. To Santa Monica Beach. At sunset. To the old wooden pier and the ferris wheel for hot churros whilst watching the golden waves roll in, dotted with surfers and the sun dipping behind the Hollywood Hills. It was one of those sublime moments where you just can't wipe the smile from your face.
Dinner was a short stroll back to Green Leaf on Abbott Kinney (where else) to round off the night. If we'd had more free days then Salt Air Venice and GJelina were also on the list but the clock was ticking and there was work to be done…
So that's my LA in a day. I gotta say, it's just one of those places, it has that laid back happy go lucky vibe that goes hand in hand with endless sunshine. My heart was at home.
…
top – Aerie @ AEO | Frame jean – Trilogy | sandal – Next
aviators – Ray Ban | Rebecca Minkoff bag – Zalando
kula bracelets – Astley Clarke | watch – Daniel Wellington