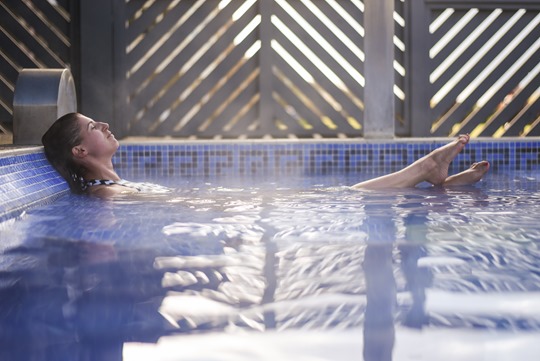 I have to confess, I have been to the MacDonald Marine Hotel three times now… Usually I try to go somewhere new whenever I can but there's something about this place that keeps me coming back – actually a few things… It's just an hour and a half from Glasgow, it's completely dog friendly (our room even had tweed dog beds, towels and toys), it's right on the beach with the most gorgeous views and the little town of North Berwick is so adorable. And on top of all that there's the spa.
We checked in and headed straight to the beach to tire out the furries before bundling into our robes for the Escape Luxury Afternoon Tea Package. Perfect way to spend the day… layer upon layer of sandwiches and cake looking out at that view with a big pot of tea and a glass of sparkles (cause it was Friyay), the sheer bliss of an hour long Elemis massage, saunas and steams in the thermal suite and that indoor outdoor hydro pool… Like I said, I've been here before and me and this pool have kind of a thang; I could lay there all day long – it's small but perfectly formed and if I could pack it up and bring it home I probably would.
We stayed the night because big cloud beds and local seafood and beach sunsets and all those things that make me smile… all in, just 24 hours away but completely relaxed. Happiness is beach breaks (with outdoor spa pools).
With thanks to MacDonald Hotels for such a wonderful stay.