I always wanted to like quinoa but we never really bonded until now. And this, my friends, is a salad of convenience because I discovered those little pre-cooked pouches of the stuff and my lunchtime life turned upside down. If, like me, you ever tried to cook quinoa from scratch you've probably got a fair idea why it took me so long to come around – waving goodbye to mushy weirdness and saying hello to straight out a packet perfection. Amen.
So let's take all my favourite things, let's mix them together, put them on the most gorgeous bluebellgray plates and let's call it a 2 minute quinoa summer health bowl because this is REALLY fast, REALLY good food. Jewels of sweet pomegranate, mint (aka the taste of sunshine), tangy feta, fresh and zingy lemon, and avocado – what can I really say about avocado except, Instagram, give this God an emoji already?
Scroll down for the recipe…
…
silk scarf – Boden (ON SALE)
shirt – H&M (similar) | jean – H&M
gotham snake tote – Henri Bendel
bracelet – Astley Clarke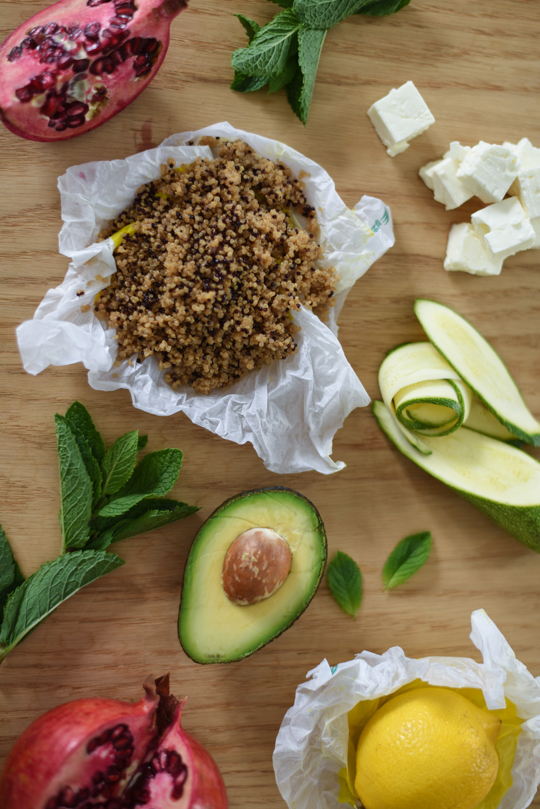 Ingredients (Serves 2)
250g red and white quinoa (cooked)
1/2 avocado, sliced (I slice mine in the skin then scoop it out with a spoon)
80g pomegranate seeds (I buy a tub – SO much easier)
200g feta cheese, crumbled
150g edamame beans (I buy mine in a tub at Tesco) OR anything green (here it's courgette)
3 sprigs fresh mint (leaves chopped or torn or whatever you fancy)
1/2 lemon, juiced
1 dribble olive oil
It is absolutely ok to eat this salad just as it is and I promise it will be completely delicious. BUT recently, what with this summer that never was (aka 15 degrees and solid rain), I've taken to giving my quinoa a quick warm in the microwave or on the hob. Either way…
Toss together the quinoa, feta, pomegranate, edamame, mint, olive oil and lemon. Top with avocado.
Enjoy.

And a peek at one pink corner of bluebellgray studio where I eat said summer health bowl in between PR and marketing things three days a week – pretty right? Sofa of dreams… I can't tell you how much I want to upholster my lounge furniture head to toe in this blush pink velvet…

Outfit photos by Carrie.