It is probably no secret that the Canary Islands are not my favourite place in the world to holiday. Whilst there are beautiful corners there is also mass tourism at every turn… but searching for sunshine and warmth in December with a baby friendly flight does not exactly leave you with a lot of options. My initial suggestions of Columbia, Oman and South Africa were all vetoed by the husband and my mum… and so to Tenerife we went.
We have in fact visited the Costa Adeje a few times in the past and in some cases, that case being travelling for the first time with baby, better the devil you know. And you know what? We had a really lovely time – it's not always about where you go but who you go with.
That being said I do have some recommendations for you and, in particular, some tips on travelling with a tiny, little person. Scroll down for my top tips on where to stay, what to eat and do and some baby essentials…
STAY
We had a very particular list of demands when it came to accommodation as we needed a two bedroom apartment with living space and a beautiful pool and on the front and close to El Duque which, in my opinion, is the most beautiful spot for strolling, eating and people watching. If I had all the money in the world I would certainly have been delighted to stay at the Gran Hotel Bahia del Duque but due to financial constraints (i.e. not being millionaires) it was not an option. At other times of year the Hotel San Roque in Garachico would have been top of my list and I would still some day like to go if I ever find myself in Tenerife again. But, as it was, we found somewhere to meet our requirements and booked into the Lagos de Fanabe. The apartments were nice and clean and spacious enough and the pool was lovely (you can see a little of it here) but what was truly amazing was the view from the balconies. I could not have guessed just how much time we would spend on those balconies. We snuck our buffet breakfasts up there, we ate lunch up there, had pre dinner drinks there, spend afternoons and mornings sunbathing there and a couple of nights we had takeaways, you know it, right there on that balcony. The funny thing about holidaying with a five month old baby is that there seems to be little time to do those things you normally do… nap times and milk times tend to dictate your itinerary and the best you really can do is find somewhere pretty in the sun to spend any free moments you might have around that schedule and enjoy it.
EAT
And so to the eating… which, if I may say, I do very well. Especially on holiday. We were a fifteen minute walk from El Duque and it is so worth walking there for every single meal, coffee or cocktail you fancy. It's a pretty walk and the whole atmosphere is really delightful – laid back and infinitely classier. I don't mean to sound like an utter snob, I have equally been to the Costa Adeje and walked to Las Americas for free shots and Mexican at the Banana Garden (is that even still there?!) and had a rare ol' time, but those days are past me now I'm afraid. That baby thing again.
And so my fav places include the Cafe la Bahia for iced coffee, La Gomera Terrace for sangria and cocktails and El Chiringuito for daytime snacks, all of which happen to be part of the Gran Hotel Bahia del Duque… For dinner though there are a few options and my absolute favourites are La Torre del Mirador for the abundance of fairylights and the sheer romance of dining on top of a cliff or inside a cave with live music and dancing with the oldies (oh wait, that's me) and La Nonna where, although it is ever so slightly set back from the front, the atmosphere is serene and the food is truly, truly delicious food (plump for the Chateaubriand if steak's your thing, it's very special).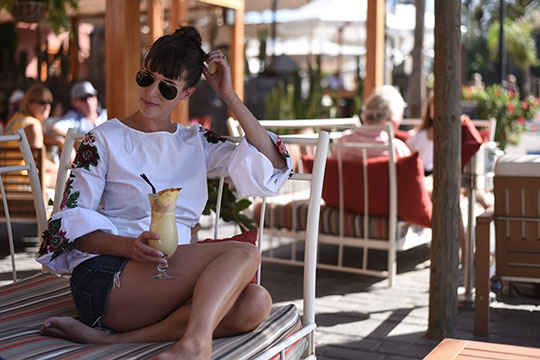 DO
What I 'do' on holiday pre baby vs post baby it transpires is quite different. Pre baby I would have most certainly hired a car and explored the whole island, for sure Garachico and Icod de los Vinos and likely Teide National Park. Post baby, I walk. In truth, I think in the past I have done more in a two day holiday than we did in that whole week. But I'm ok with that; this holiday was about relaxation and genuinely just figuring it out whilst trying to steal the odd moment of relaxation (which in all honesty was only even possible because my mum came along too and helped out). The lovely thing about the Costa Adeje is that there's a perfectly maintained and flat promenade for strolling away to your heart's content. We walked to La Caleta for afternoon drinks round the harbour on a cloudy day and we strolled round the old, narrow streets of El Duque and we went for coffees and the odd cocktail and that was enough. We spent time as a family and that was the most perfect thing.
Sidenote – some things to avoid doing would be walking in the direction of Las Americas and visiting the market up the back of El Duque which is anything but quaint (just ask any of the five thousand people who do go).
BABY ESSENTIALS
And now, not that I can claim to be any kind of baby travelling pro, here are some of my tips in that department (after many requests!) – some are mine, some are gladly inherited from friends…
Take a travel pram. I love our Joolz Geo but that guy is Heavy (with a capital 'H' see?) and truly not suited for hauling in and out of taxis or up and down stairs or around airports… We were kindly gifted a Nuna Pepp Luxx to try out and I loved it so much I keep it in the car now for any impromptu trips we wind up on (ok, mostly to the supermarket). It steers and rolls super well but the best things were the three position recline, with one being perfectly flat, and the enormous, built-in sunshade. These two things combined meant that eating out was pretty seamless with Hunter sleeping. We gave him a bath and bottle as normal at bedtime, popped him in his pyjamas and sleeping bag and then straight into the Nuna with the sunshade down and an extra cloth to completely cover the gap – by the time we had walked the quarter of an hour to El Duque he was asleep and then it was an easy transfer into the cot when we got back to the apartment. Nap times did not always got to plan on holiday but this bedtime strategy honestly worked far better than I could have hoped for.
That brings me to muslin cloths and pyjamas. My favourite brand for holidays, and warm summer nights, is Aden and Anais (which I actually discovered in TK Maxx but have since shopped their own site and also been fortunate enough to receive some gifts from them). They have the most beautiful linen pieces which are perfect for daytime and nighttime – I packed sooo many outfit options and truly, if I had taken just one day suit and one night suit that would probably have been enough (size up, they run narrow… or maybe my baby runs wide). They also have absolutely beautiful giant muslin cloths which are the softest I own. I don't use them much at home but on holiday they seemed to have many, many uses including, blanket, sunshade, evening pram cover and scarf for myself once or twice – I have this silky soft indigo set which I think is so pretty and yet boyish.
I have quite a few sleeping bags and love them all for different reasons but decided to take the Babasac (I got this one from Amazon) on this trip because it has the option to zip in or out the layers for warmth or not depending how warm your room might be.
We took all our bottles and a microwave steriliser (which was filled with clothes in a case) which worked for us because we had an apartment. Next time I'm totally taking these microwave bags though to save on space and because I know they'll fit in any size of microwave. There was a moment where we thought ours might not fit – oh the drama and relief of holidays with baby – the alarm is no longer hearing the happy hour bell and worrying if you're going to make it to the bar in time, the alarm is thinking your steriliser might not fit in the microwave. Wild I know. You're jealous.
Fortunately we did not need to think about food at five months but milk might have been a challenge. Turns out you can pre-order through Boots to collect airside (that bit is important) and dodge all the hand luggage limitations you might have to deal with if you bring your own from home. I ordered nappies, wipes, milk powder, readymade milk, suncream, the whole lot. Set a reminder on your phone to collect it… (imagine you forgot). Totally off the baby topic, I always order my holiday cash with Travelex and pick that up at the airport too so I had two collections reminders set this time.
We packed a few books and a teether and this toy arch which clips onto a buggy or chair legs or a table or just about anything you can think of. But honestly, Hunter was mostly just fascinated to be somewhere new and do a whole lotta people watching, as was I.
If I missed any tips please do share in the comments below, I would love to hear them. Next flights will be in April on a ski holiday… eek.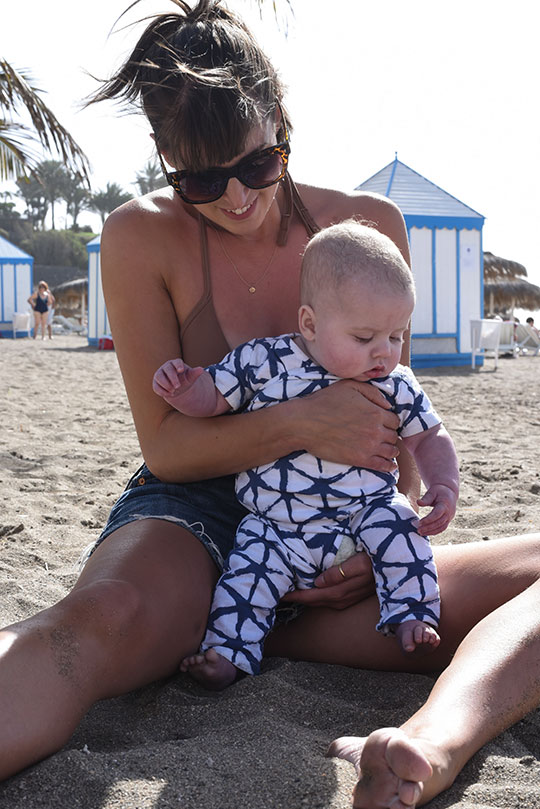 SHOP THE POST