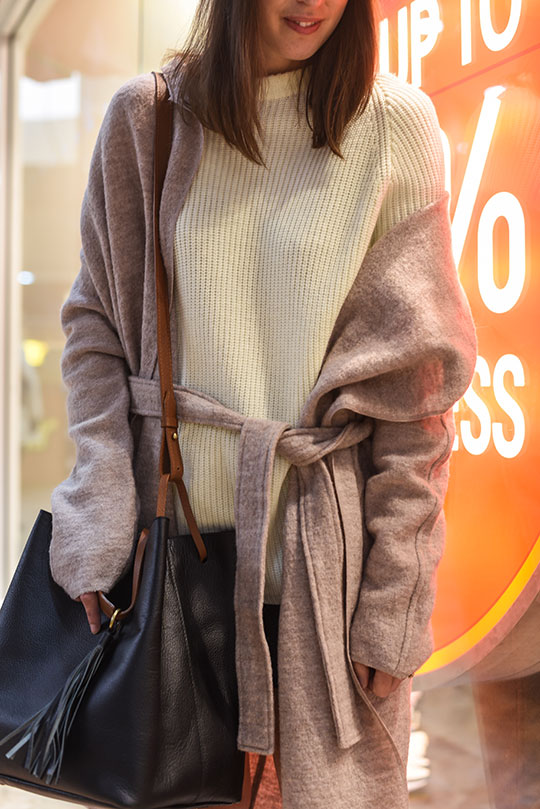 Last weekend we took a little day trip through to the East Coast to do some hunting in the newly made over TK Maxx Kirkcaldy store – I love it when a shopping trip turns into a 'thing' – I took Carrie (remember her?) with me as photography assistant; cue major girl chat catch up car journey fuelled by chocolate dipped cherries and hand cooked crisps we picked up in TK Maxx for the trip home, ha…
The store just had a huge makeover making it super simple to navigate and hunt down the best bits. We started in knitwear and wound up in the bag section (always such great prices for leather bags) before taking a tour through footwear where I basically found the holy grail of designer booties… let's just say they were over sixty percent off the RRP and my feet cried tears of joy when I put them on.
So here are three of the looks I pulled together, two with those boots because, yeah, tears of joy like I said…
I'm loving layered knitwear right now and the beret was genuinely not something I was really searching for but as soon as I saw it I knew it would be perfect with the other pieces… how does this always end up happening to me in TK Maxx?
For the store relaunch Laura, the loveliest stylist, was on hand to help shoppers discover their 'colours' so we had a little sit down. Drum roll… I was officially deemed an autumn (thank goodness – I think we all know my wardrobe is permanently stuck on tans and ochres and khakis).
I thought this summer dress was just too cute to pass up so, surprise surprise, I layered it with jeans. And the boots. And the furniture section in this store was honestly ah-mazing so I sat my behind right there on that mustard velvet tub chair. Obviously I was not there for the furniture but seriously, if you are in the market for some home bits, please go. So much gorgeous velvet and sheepskin cushions in a rainbow of colours for under fifty quid, just saying.
Lastly the sportswear. I actually snagged a ski helmet online for £27 a couple of weeks back (it was meant to be £130 so that was basically the deal of the century) and it reminded me just how amazing the sports section is in TK Maxx. Knit sneakers and a lil' designer hoodie for thirty quid and I am a happy (gym) bunny…
So if you're in Kirkcaldy, or passing through, head in and see what you can find because there are deliveries several times a week and loads of one off gems for truly amazing prices. Yeah, you'll probably end up leaving with something you did not go in for but I am taking no responsibility for that…
Sidenote: how sweet are the pink fitting rooms?
With thanks to TK Maxx for supporting this post.