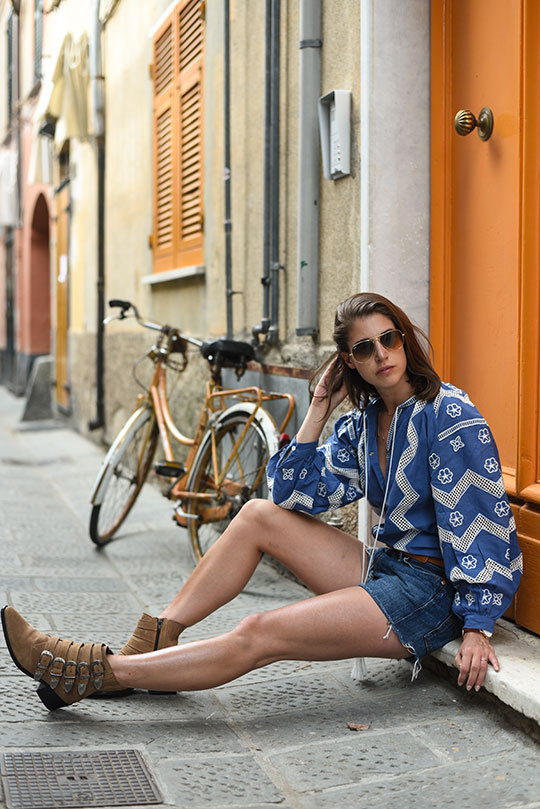 Four days in Italy and I fell head over heels in love. I want to explore every bit of this beautiful country but, for now, I have these memories… So I wanted to share a travel diary with my tips on where to stay and what to eat and, of course, what to wear because we packed in so much in four days and if there's even a hair on your body that's thinking about travelling to this part of Italy, I urge you to do it.
Scroll down for my guide on where to stay, what to do, eat and wear…
…
blouse – MyWardrobe via Depop
Levi's 501 shorts – Zalando
Pavement boots – Zalando
Ray Ban aviators – Zalando
FLY
We flew into Pisa with Ryanair in darkness (aka the flight that lands at midnight and costs about £20 but means you don't even need the day off work) and hired my Italian dream car, a white Fiat 500 which the husband folded into effortlessly. One word of warning – check your hire company will be open at midnight or you're in trouble…
DO
There's so much to do and yet nothing to do if that makes any kind of sense? And that's how I like it on holiday. The hotel loaned us some bikes and we explored the little village and all its cobbled alleyways, eating gelato and stopping in cafes for teeny tiny coffee. We cycled up the hill to the convent and worked the brakes on the way back down, we swam in the bay and dried off on the tiny jetty. Guys, if you don't feel the love in this place you have a heart of stone. It's just the most beautiful place and the people are so friendly, life is slow and the air is warm…
STAY
We stayed at the Vis a Vis which was incredible – now don't get me wrong, the rooms are old style Italian orange bedspreads and pretty basic although with generous sun terraces, but the views, the views are what it's all about. The most incredible panoramic vista right out over the double bays of Sestri Levante, breakfast from the floor to ceiling window restaurant and drinks from the rooftop bar with the curtains wafting in the breeze, watching the sun sink down on the ocean horizon behind those coloured houses… but, and I'm just playing devil's advocate here, you can easily head up there for a sunset drink whether you choose to stay there or not. So if you're on a tighter budget then I also liked the look of Villa Agnese and Chincamea both of which are a little further out of town but look beautiful and a great base for exploring the area. To be completely honest though, you could stay anywhere is Sestri Levante and you wouldn't be disappointed because this is the most charming village ever…
EAT
The food in Italy deserves the Instagram '100' emoji, period. So with that in mind you could eat most places and the fresh ingredients coupled with the best pasta in the world means you're hardly likely to go hungry. A couple of our favourites in Sestri though – Citto Beach for lunch and views of the Bay of Silence (seriously, that's what it's called and it is just the most beautiful place hugged by it's coloured houses and with the stillest turquoise water). The menu is simple, salads and focaccias with variations of mozzarella, tomato and parma ham but the food is so fresh… and did I mention that view? The house red is excellent and if you need a break from the cocktails you can just nip to the beach and take a dip in the bay. Bliss. We enjoyed it so much on day one that we went right back for more on day two. For dinner La Cantina del Polpo was superb. The husband tried the tasting menu whilst I opted for the house specialty of octopus taglierini – genuinely one of the best things I've ever tasted, something like the bolognese of the sea… I don't know what to tell you, I didn't think I was a polpo fan but that dish changed my world.
WEAR
The first week in October wasn't roasting but the perfect balance – warm enough to dine alfresco at lunchtime but cool enough to explore without breaking a sweat. I packed lots of layers and a jacket and scarf which I was glad of in the evening. I discovered this amazing blouse on the My Wardrobe Depop shop (def worth keeping an eye on for the beautiful bargains!), the Levi's have definitely become my go to for all holidays and can we talk about the boots? This is why I love Zalando so much, introducing me to brands I've never heard of and coming up with gems like these Pavement boots – I wore them both during the day and every evening, the heel height is easy and the colour does that amazing leg lengthening thing where some ankle boots just cut you off… if you follow my Insta stories you probably know that I've worn them just about every day since I got home too.
I'll be sharing my looks and tips for each of our four days so get those flights booked and stay tuned…
SHOP THE POST
With thanks to Zalando for supporting this post.