Living out my lodge life dreams… Ninety minutes from Glasgow, close to North Berwick, lies Archerfield, aka #goals. Pulling up to this lodge was one of those fairytale moments – it is immense. Spending the weekend here with my folks and my boys truly made memories that last forever. From the colossal log cabin to the roaring log fire and waking up to these views from the verandah, the lodge is the holiday home version of the one hundred emoticon. Literally no detail unthought of, every luxury provided including robes for us and dog beds for the boys, breakfasts in The Clubhouse are epic and the spa needs a whole post of its own (it's coming).
The men confirm that the golf is on another level (the husband's shoes were genuinely polished beyond recognition – cue my dad's embarrassment as the husband claims his shoes are indeed not there at the shoe bar…).
The grounds are so Scottish and so stunning – I'm pretty sure someone trims the grasses with scissors, like 99% sure. And Dirleton beach is only moments away so you know that made me very happy.
This place can only be summed up as a fairytale – something that so wildly exceeds your expectations you can't quite believe you're there, in that lodge with the people you love the most.
Go.
…
pannier belted jacket – Barbour International (Black Friday sale)
knit – H&M | jeans – Guess
pavement boots – Zalando
gloves – Barbour International (Black Friday sale)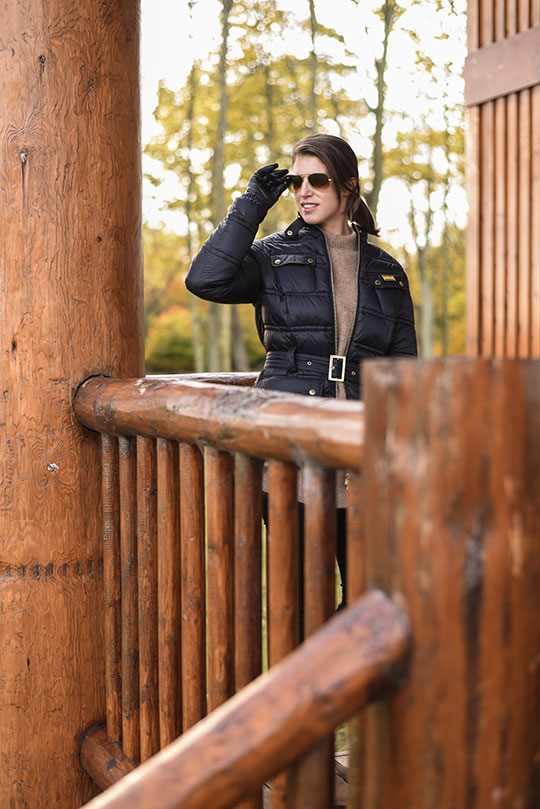 SHOP THE POST