What a week. What a year. The world is a strange place to navigate right now but I will make this promise – a promise to my children, to our future. I promise to raise you to stand up for, be kind to and be compassionate towards everyone – this is a start and something I can do right now, today and every day.
This set of images might just be some of my favourites to date and I love that they are simply at home, in the front garden. But the matching Newbie outfits – those really make my mama heart swell. I will not pretend not to have imagined this moment from the very first 'it's a girl' scan during my pregnancy – I am unashamedly that kind of mother and I will likely continue to be for as long as I can possibly get away with it. I have fond memories of the identical set of mohair, colour block jumpers my Gran knitted for my own Mum and me circa 1990 – I was so proud to match with her.
So I have pulled together some of my favourites, starting from just £9, if you want to get on board with this special kind of cuteness. There are certainly many more for little girls but I kept my focus on brands which offer matching sets for the truly tiny ladies in our lives – scroll down to see the edit…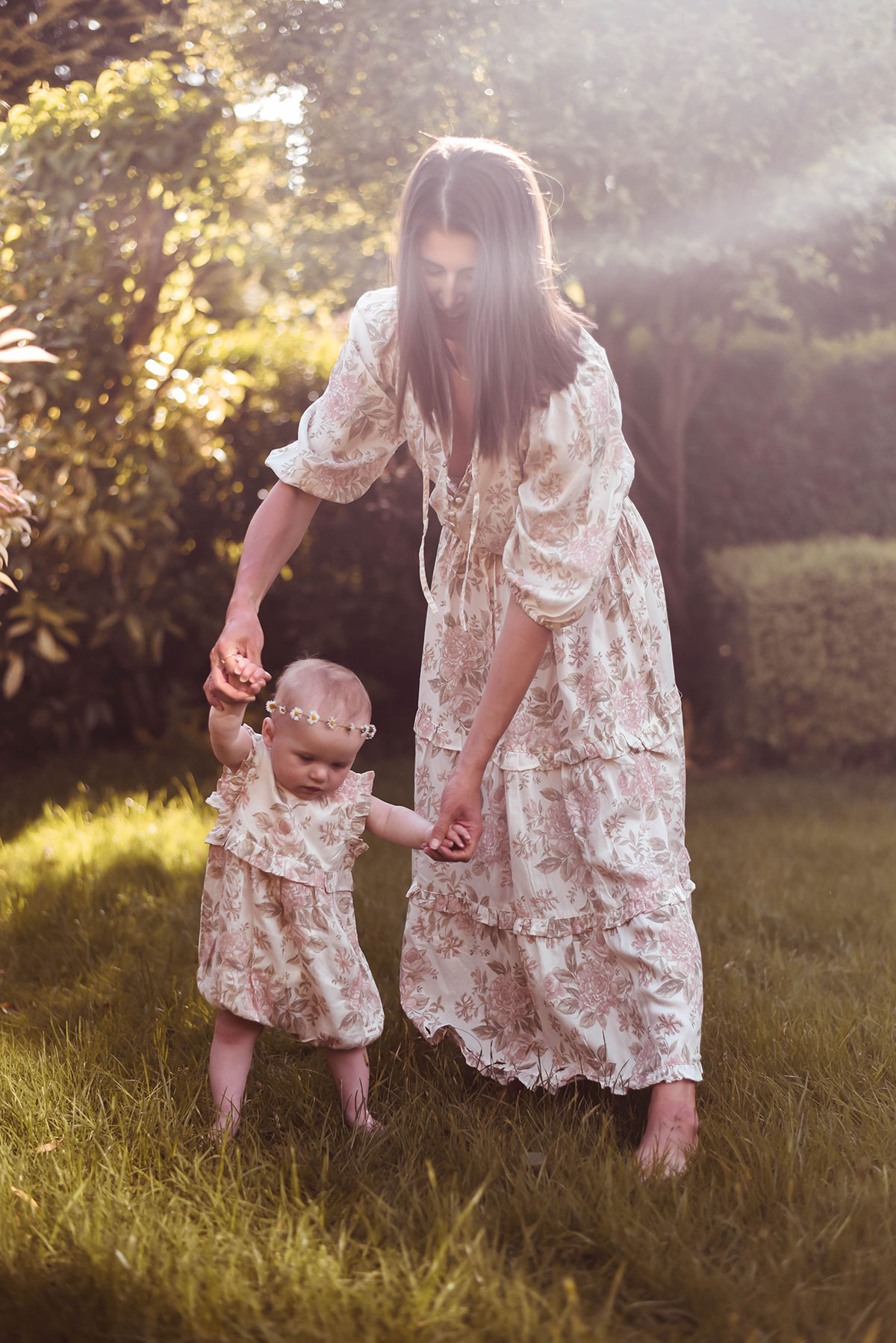 I was honestly blown away by the quality of these Newbie pieces – beautifully soft and so well made for such a great price and, although the brand kindly offered them as a gift for this shoot, I would happily part with my own money for them.
H&M are bringing the budget friendly option here with the matching tie dye swimsuits for mama and baby girl – adorable. There is a bikini too if that's more your style and even matching shorts for baby boys and bigger boys and Dads (though sadly sold out). The full family. Matching. My dream. A dream that the husband does not share.
The bigger budget pieces are from brands which have been on my dream list for quite some time – both British born with the most beautiful pieces, either for matching or just for yourself. That Seraphina cami maxi skirt combo is such a dream set and I could imagine wearing it summer after summer for years to come – in my mind gingham is just such a classic and I love the oversized check of this one.
Finally I have to mention Freya Lillie – I discovered them first through social media and honestly just can't quite decide which pieces to add to my wardrobe they are all so beautiful. I have featured the dungarees in the shopping edit above but the Brianna top and Lillie romper would be the sweetest combination too and I wonder if I might get more mileage out of a top?
floral mama dress – Newbie
floral mini dress – Newbie

mini swimsuit – H&M
mama swimsuit – H&M
gingham mama cami – Seraphina
gingham mama maxi skirt – Seraphina
gingham mini dress – Seraphina
legra mama top – Louise Misha x Smallable
janice mini dress – Louise Misha x Smallable
calakmul mini bloomer – Louise Misha x Smallable
little lemon set – Gal Meets Glam
lemon mama dress – Gal Meets Glam
mini collette dungarees – Freya Lillie
mama collette dungarees – Freya Lillie
One thing is for sure – I will be adding more matching looks to our wardrobes – I am so smitten with this concept.
Apologies for the photo overload today… truly I had a hard time editing it down to this many – I am just so in love with her.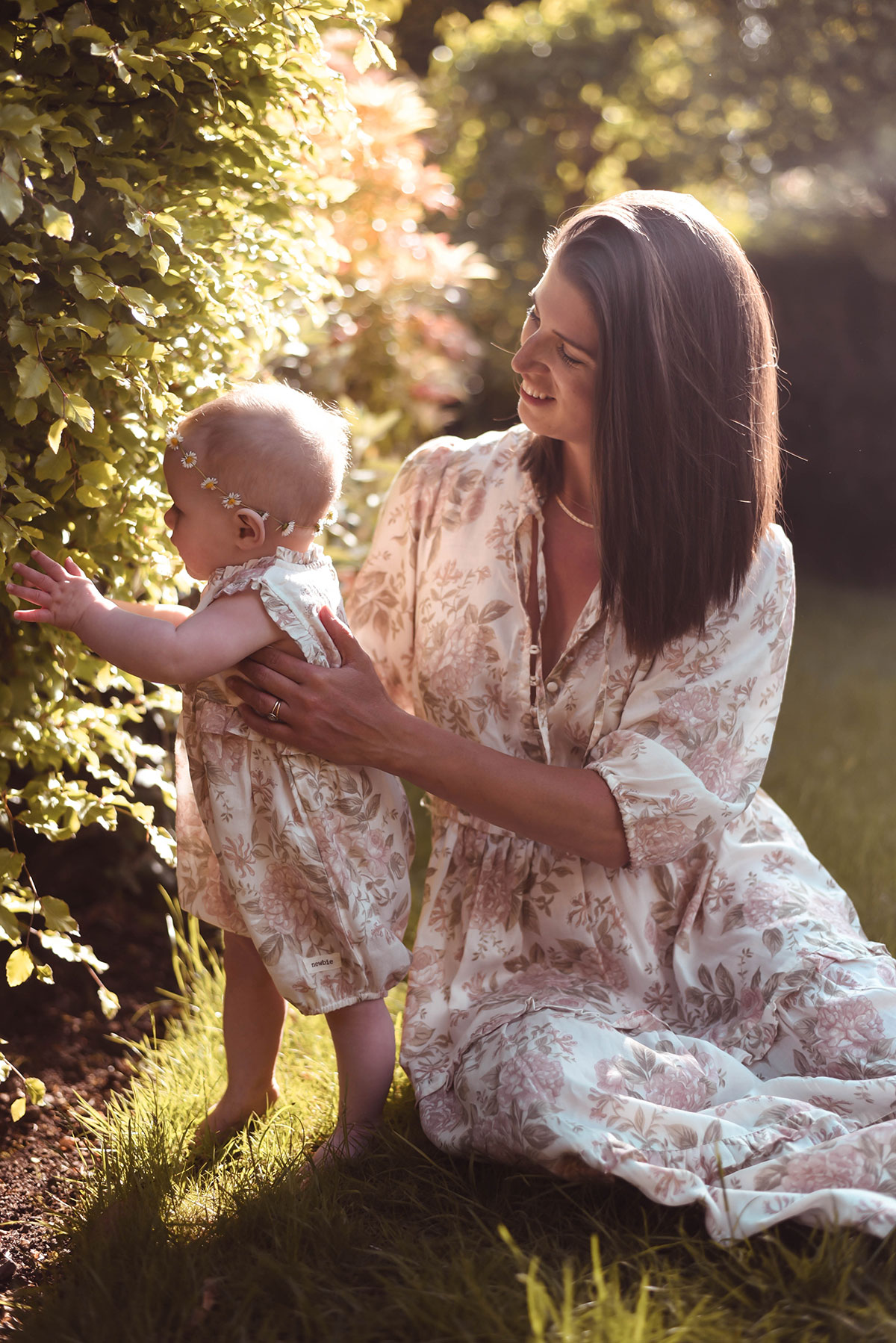 This post may contain affiliate links and gifts
OUTFIT DETAILS
floral print dress – Newbie
'love' pendant – Astley Clarke
long snake chain – Daisy London

floral print jumpsuit – Newbie
(there's a matching dress too)