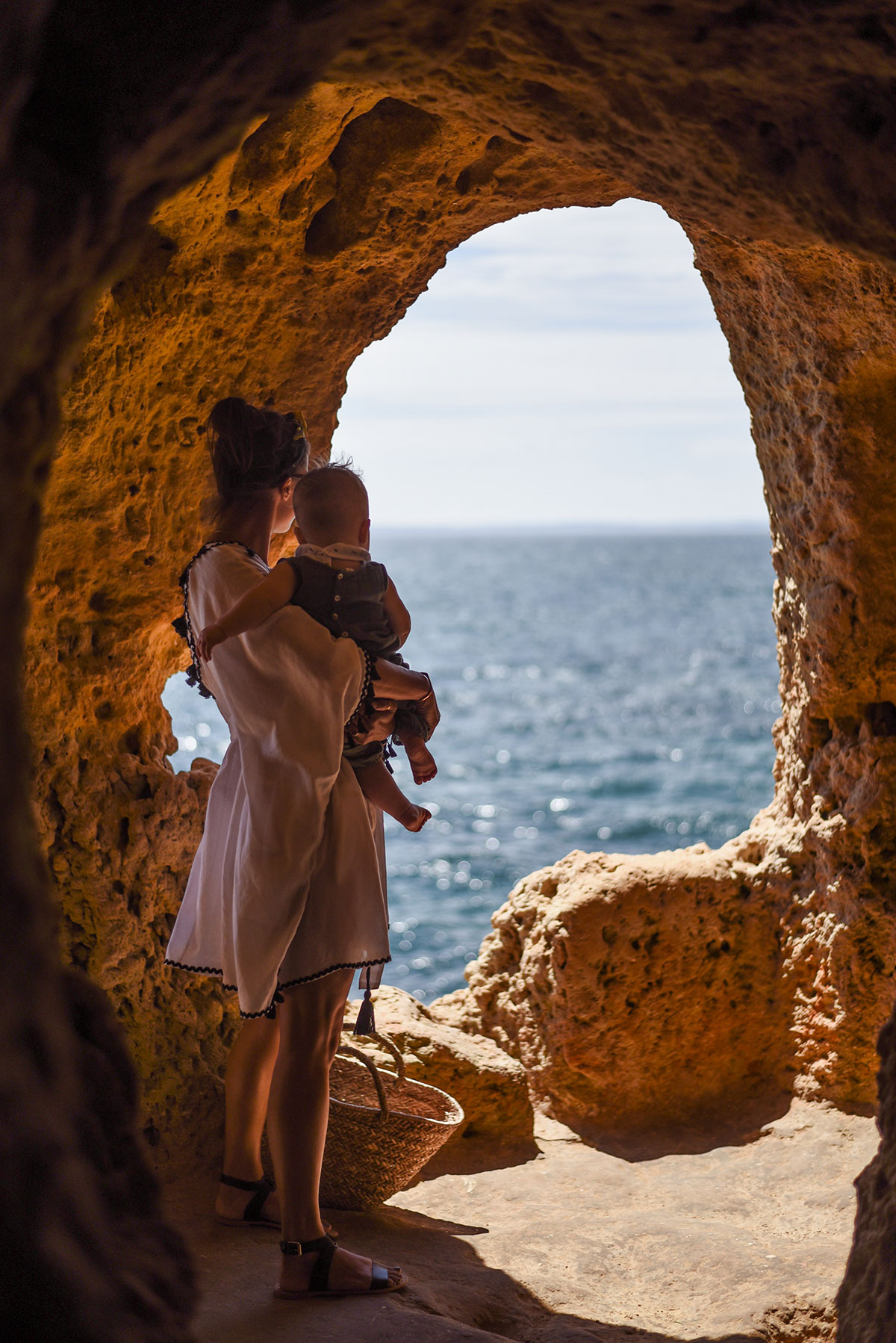 First up, don't say I didn't warn you, this may be my longest post ever… but, my goodness, the Algarve coast is a beauty.
Four nights in this curious mix of coastline; on the one hand teeming with tourism and on the other just pure, take your breath away, natural beauty. Let me preface this by saying that I often travel places and love them but I leave satisfied and without a huge urge to return (mostly because my travel bucket list is, well, everywhere and I need a lifetime to fit that in) but there are a few places I feel differently about. Melbourne, France, Ibiza and Italy are my exceptions. And now Portugal – I would love to visit the Algarve again, Faro and Lagos, but also have Porto, Lisbon and Cascais on my list…
But back to the here and now. Cheap(ish), direct flights from Glasgow to Faro were too good to pass up and after some indecisiveness of my part and a lot of advice from my wonderful instagram friends, I settled on Carvoeiro. Just FYI other contenders were Alvor, Porches, Lagos as well as inland for the farmhouses but, in the end, what won out was finding a (semi) affordable hotel clinging right to that famous, rugged coastline because with a baby you just never know how much you're going to really be able to explore.
As always, scroll down for my tips on where to stay, eat and what to do…
STAY
I spent hours searching for the perfect hotel, truly. I like boutique, the husband likes luxury. And now we have a baby to throw into the mix things have become infinitely more complicated. But within minutes of checking in I felt a huge sense of relief; the hotel was so beautiful that if we had spent the next four days right there I would have been content. First of all the view is ridiculous – I mean, you come to the Algarve for this cliff clad coast and the Tivoli Carvoeiro hangs on the edge, overlooking turquoise waters and one of those famous sea caves. You hear the waves from your bed and the entire hotel, as you would hope, is built around that incredible vista.
The interior is recently renovated and honestly quite beautiful – for what is in fact a relatively large hotel, it really feels boutique. Our room on the fifth floor turned out to be one of the largest suites I have ever stayed in complete with separate lounge perfect for the cot, dressing area, walk-in XL shower, the works (although looking now I am not honestly sure which category it fell into as we were lucky enough to be upgraded). I loved that the hotel was child friendly and yet far from being overrun with kids (please tell me I'm not the only mama that still really wants to stay at adult only hotels… with her baby, ha?!). There is a kids club if that's your thing but for our short four night stay we did not need it.
The restaurant by the pool is perfect for lazy lunches, not crazy expensive and the menu is adequate but you better believe it shares that insane view. Breakfast is perfect whilst the dinner options span both ends of the scale with one being buffet and the other being fine dining (need your blazer and dress shoes kinda fine dining), neither of which suited us with baby so we ate elsewhere in the evening which was no problem as the hotel is only a five minute, pram friendly walk to the nearest restaurant.
But the Sky bar is another story. I mean yeah, you gotta carry the pram up the last flight of steps to get up there because if there is a lift we could not find it but boy is it worth it. Sundowners on that rooftop terrace are the kind of moments that make holidays.
I found the cheapest place to book a room was direct on the hotel website and if you sign up for the free privilege program you get a further 10% discount so obviously I did that too…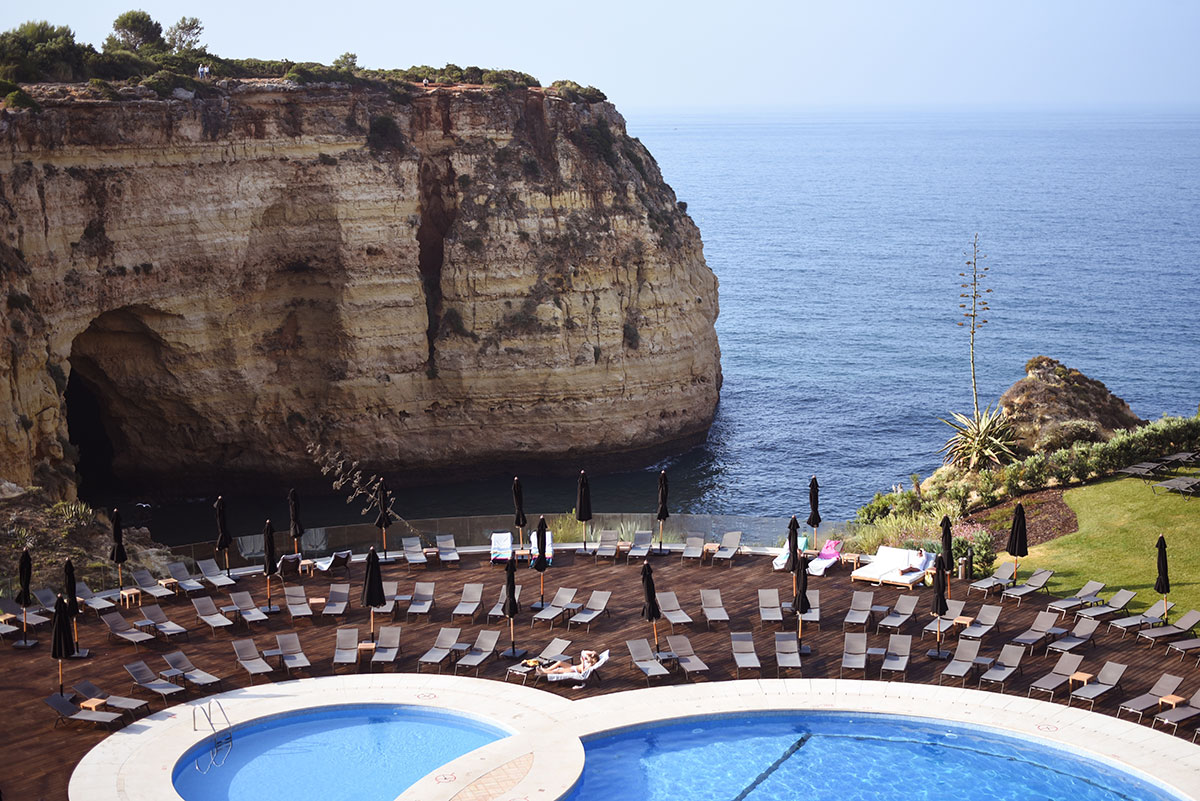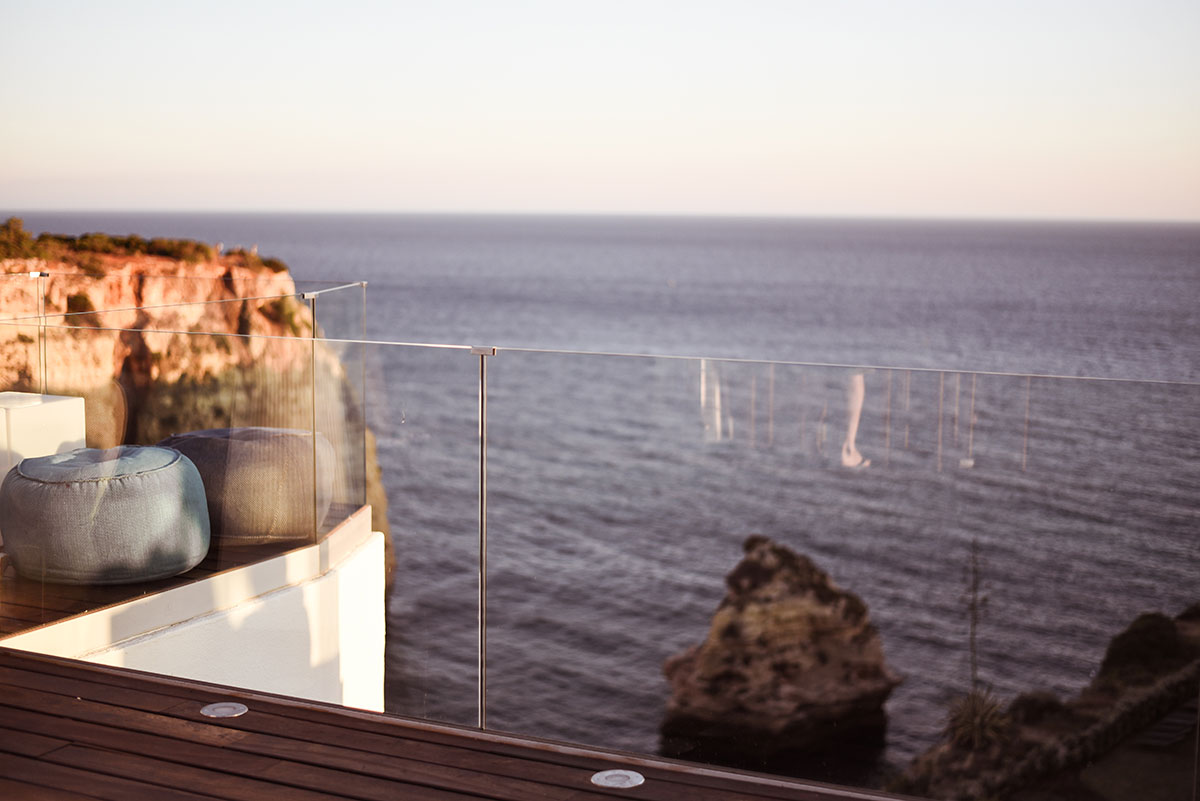 EAT
Carvoeiro itself is a town of two tales and it really all depends on your approach. Arrive from the coastal boardwalk to be greeted with a picture perfect view and you would almost certainly be inspired to stick around and explore. Arrive from the road and, after passing many a tacky tourist store, neon lights and an Irish bar amongst other things, you might not be inspired to stick around at all. Unfortunately we only discovered the boardwalk with one day to spare so our initial impressions of the town itself were not great and we retreated back uphill towards the hotel and secreted ourselves away in the beautiful, alfresco, Italian courtyard of Villa Medici for what turned out to be a completely delicious meal of homemade, seafood pasta, fresh pizza and tiramisu. With more time I would certainly have ventured over to Mar D'Fora and would have loved to explore the old town up behind the beach but honestly I judged the book by its cover that first night and did not feel overly eager to venture into town again…
Fortunately, five minutes' walk along from the hotel, and another one of the reasons I booked the Tivoli, is Boneca bar. Nestled amongst the cliffs and caves of Algar Seco and down what feels like two thousand steps (carrying a buggy) is this little nook with an incredible view, a barbecue and fresh fish. We went during the day and we ate dinner here at sunset on our last night. The food was good but it did not blow me away and the service was not perfect but the location is the dream and that more than makes up for any shortfall elsewhere.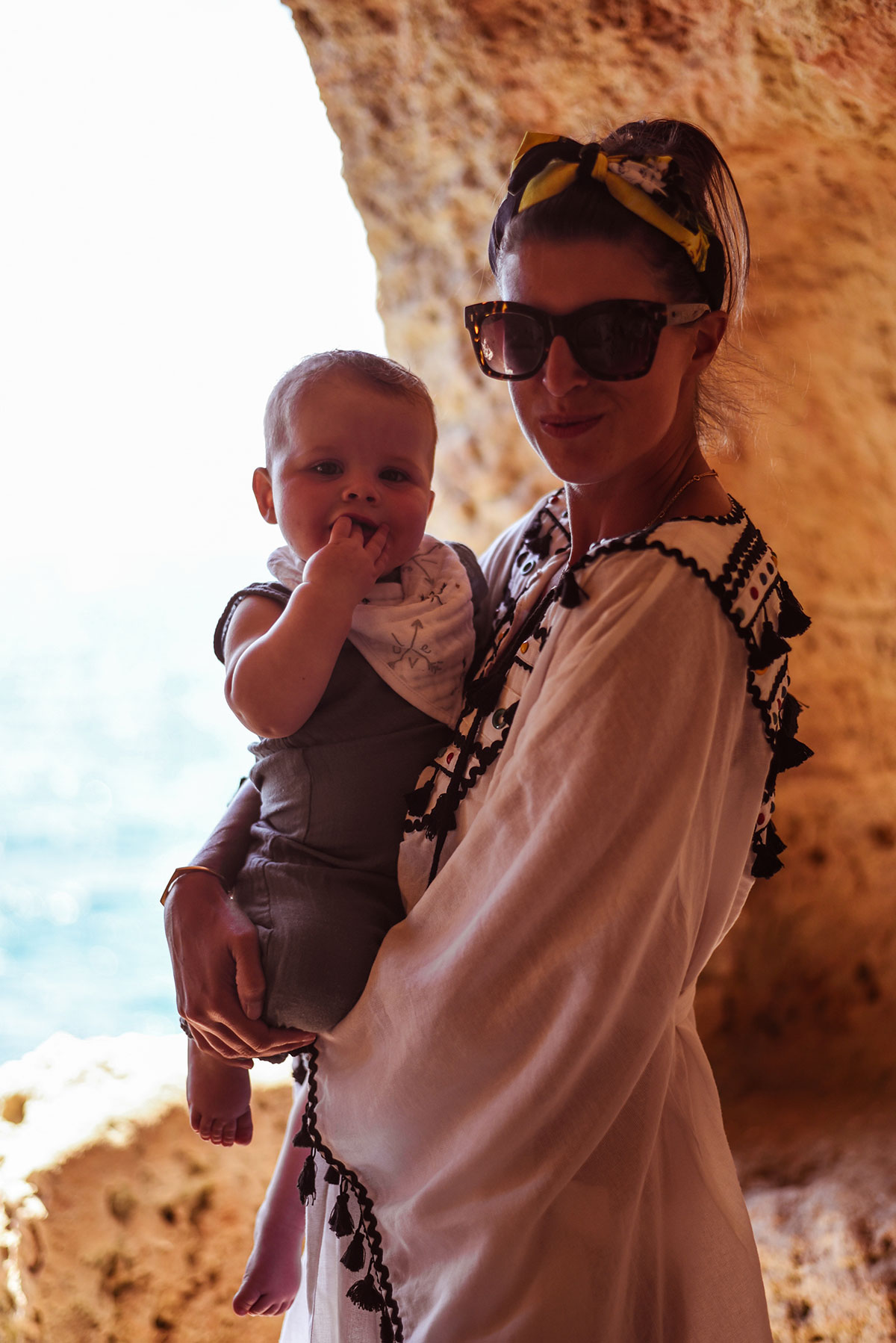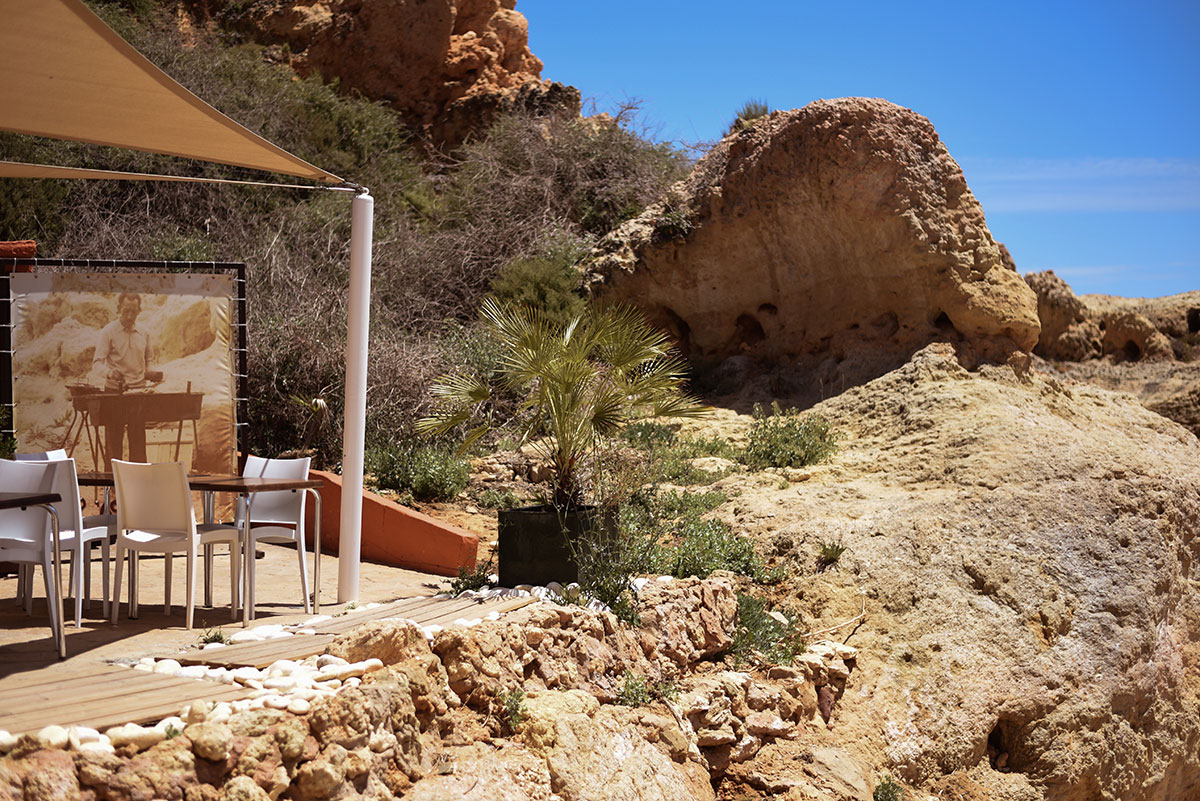 Walk fifteen minutes in the other direction, east and away from the town, and you will happen upon an unenticing red sign declaring 'Oh Stop!' but do not be fooled. Follow the winding road back down to the coast and take your pick of the stairs (again, everywhere) or an unimaginably steep but pram friendly slope and you will find yourself dining on the most beautifully fresh seafood with your toes in the sand and yet another one of those views. It was super reasonably priced, the waiter was the sweetest local and the food was exceptional – a hidden gem.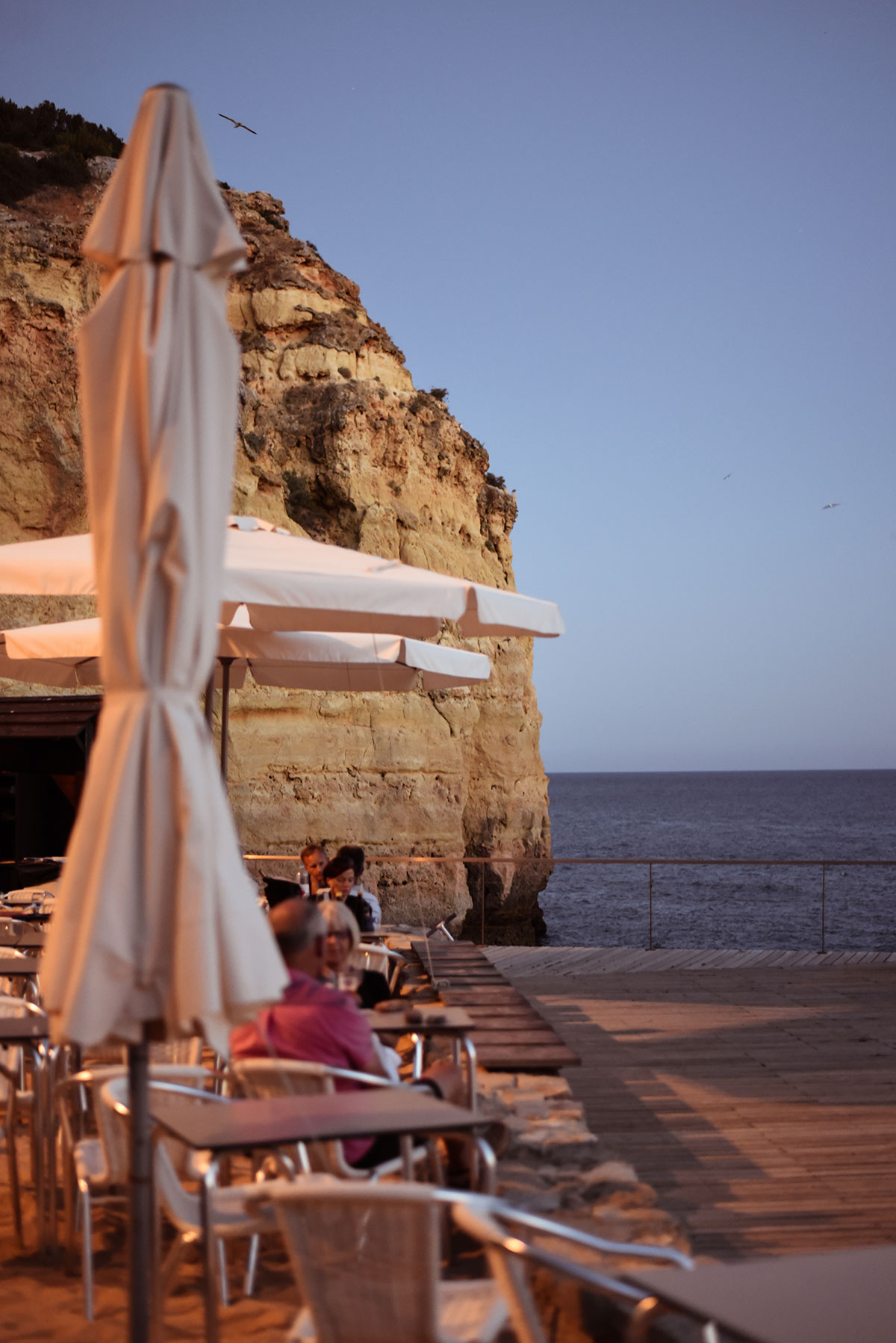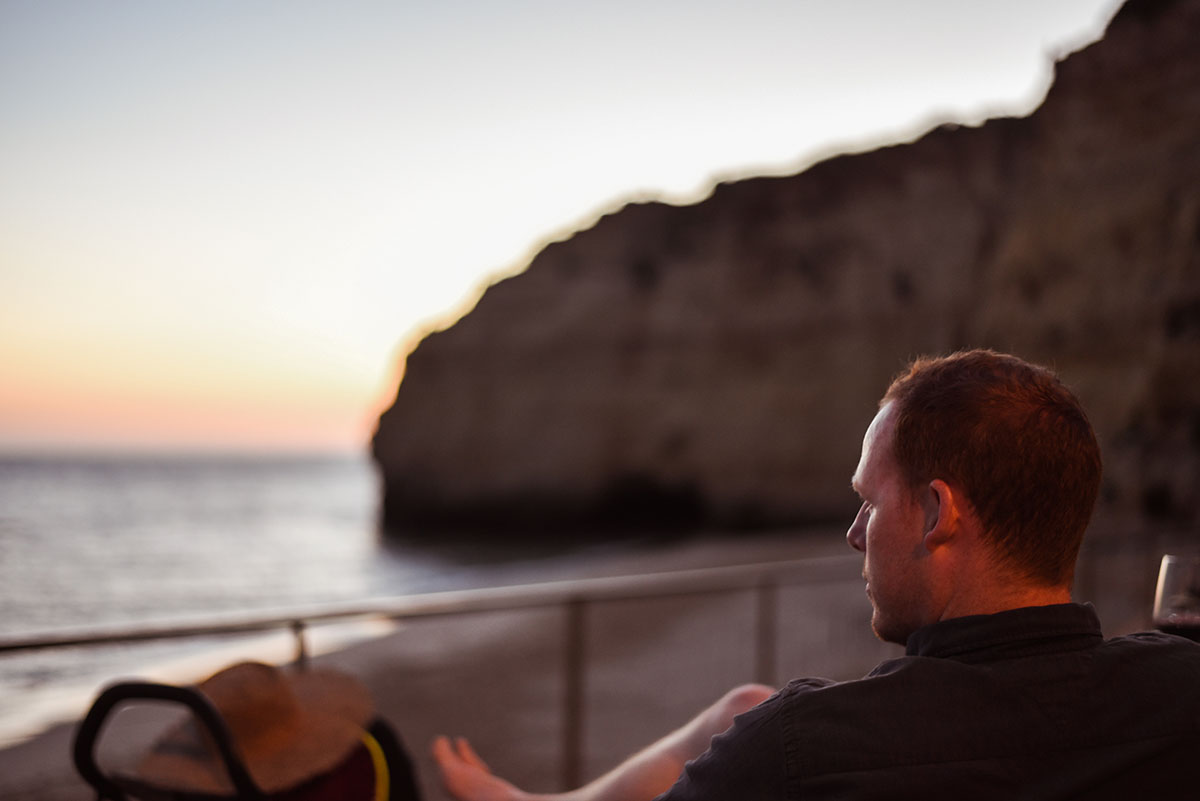 If you really have your walking feet on, or indeed take a taxi, then another one we wanted to try but did not make it too was O Pescador in Benagil – I have it on good authority that it is definitely worth a visit.
In terms of food though I saved the best for last here… About twenty minutes drive west along the coast you will find Canico (sourced on Pinterest as is usual with my holiday research). I am not sure my words can do this place justice but suffice to say the husband and I both agreed it was one of the top five meals of our lives, tiger prawns as big as my head, we would go back in a heartbeat and, of course, you guessed it, it comes complete with a spectacular view.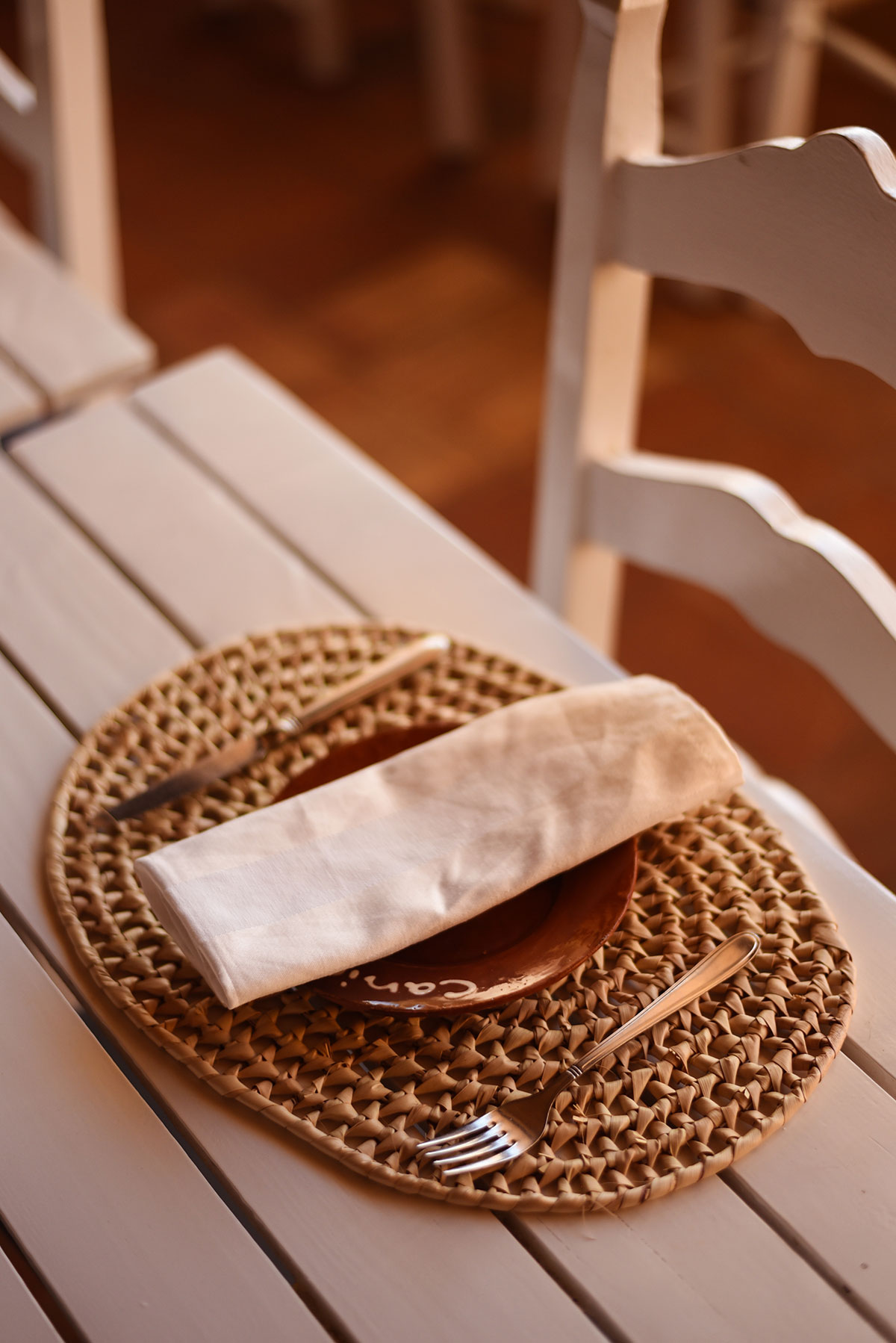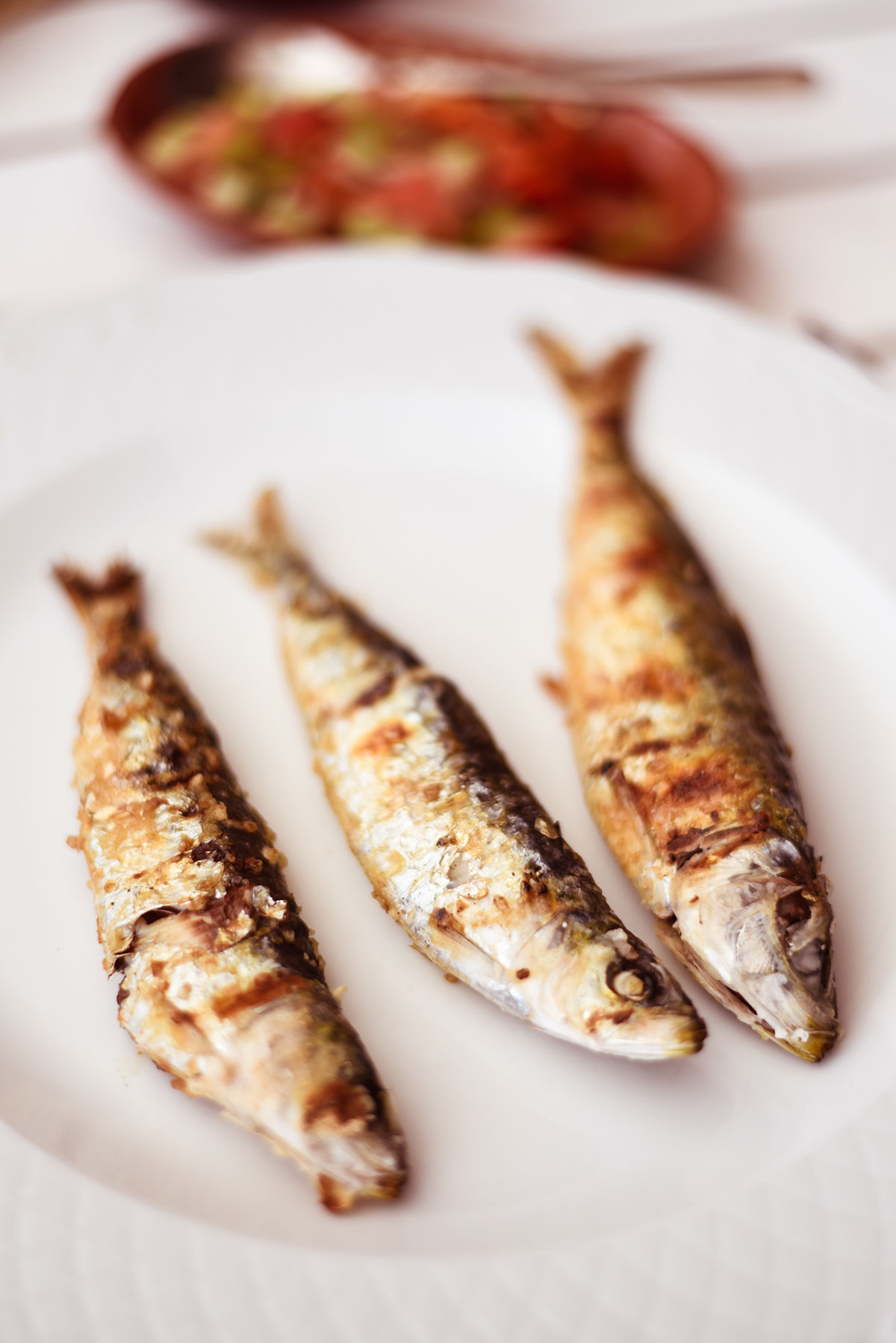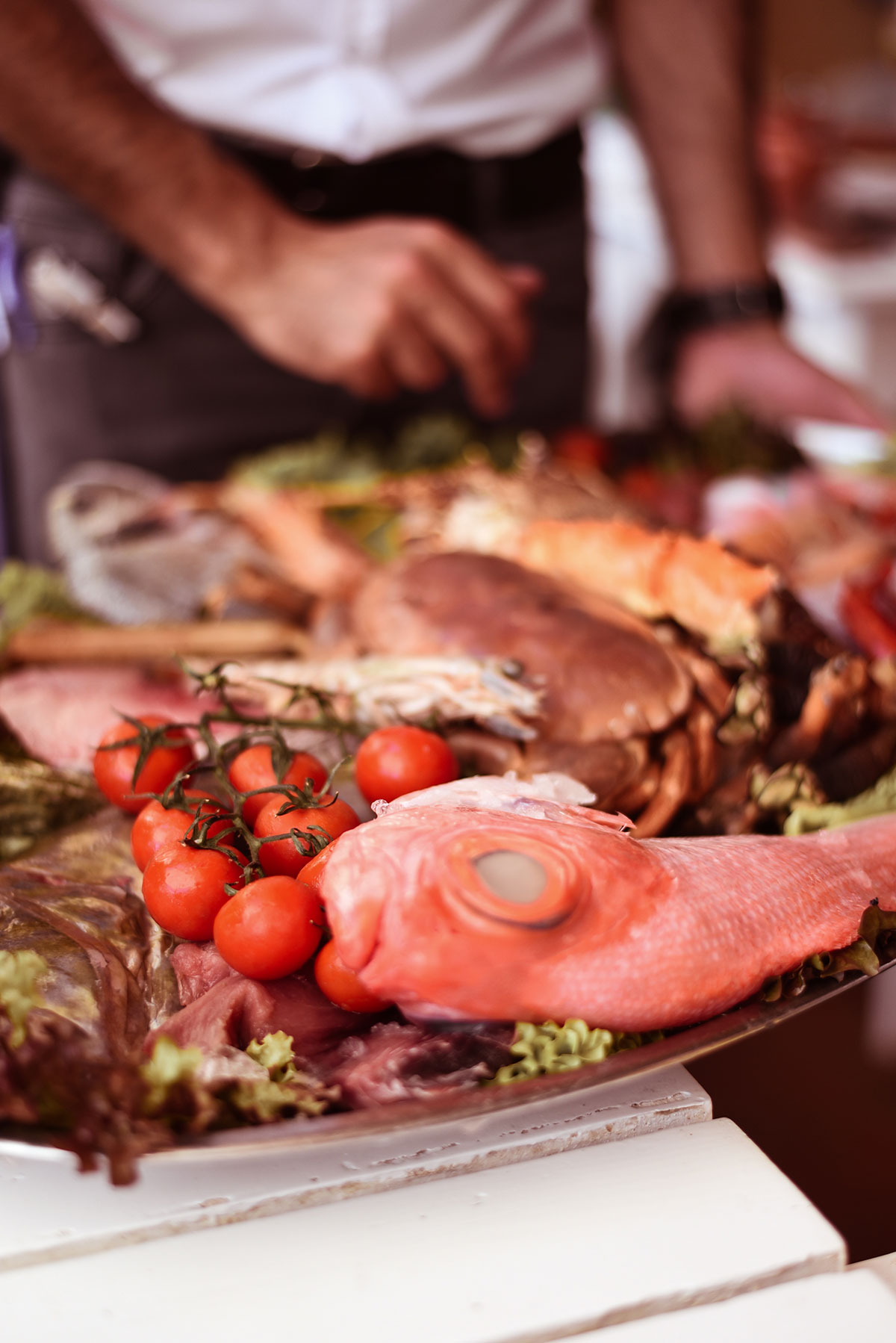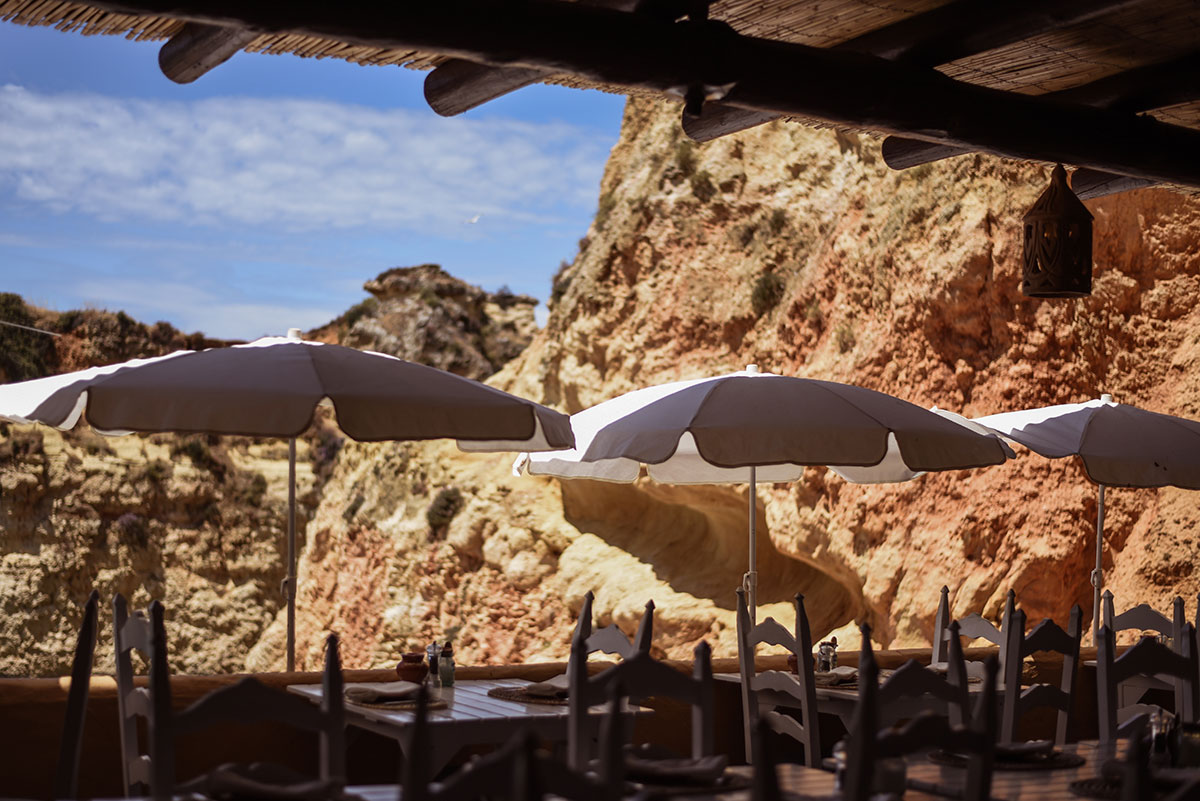 DO
What can I say about 'do'? Do explore that coastline and you will not be disappointed. That is a promise.
Stumbling upon Praia dos tres Irmaos en route to Canico blew me away. I seem to recall proclaiming it to be the eighth wonder of the world. We postponed lunch by half an hour (risky with an eleven month old to be fed) just to get our toes on that sand and walk under those jaw dropping, limestone arches and, thanks to the lift in the restaurant, this is one beach you can reach almost entirely stair free (just park your buggy outside the restaurant in the corridor in the cave – it makes sense when you see it – and carry that little one). You can thank me later.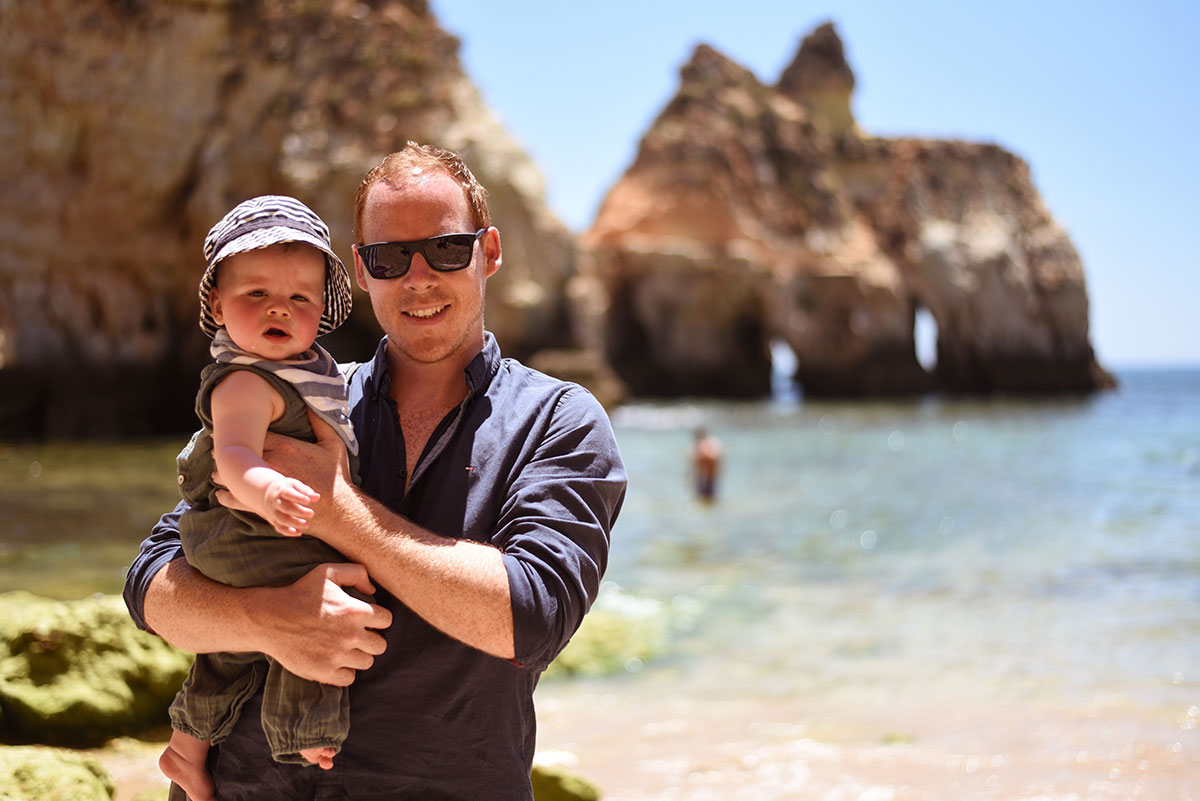 Ticking the 'old town' box for me on this trip was Ferragudo with its pretty winding streets studded with a rainbow of painted doors, this beautiful old church and patterned tiles galore. Stroll down the promenade passing the fishermen mending their nets, continue on to the castle if you have the energy or simply sit in the quaint little square littered with cafes and enjoy a coffee and a pastel de nata, the quintessential and absolutely addictive Portugese treat. P.S. It is cheap here too – an espresso and pastry totalled 1€50 as I discovered when I forgot cash and needed to meet the 10 euro card minimum – that is a lot of pastel de nata… which is no bad thing.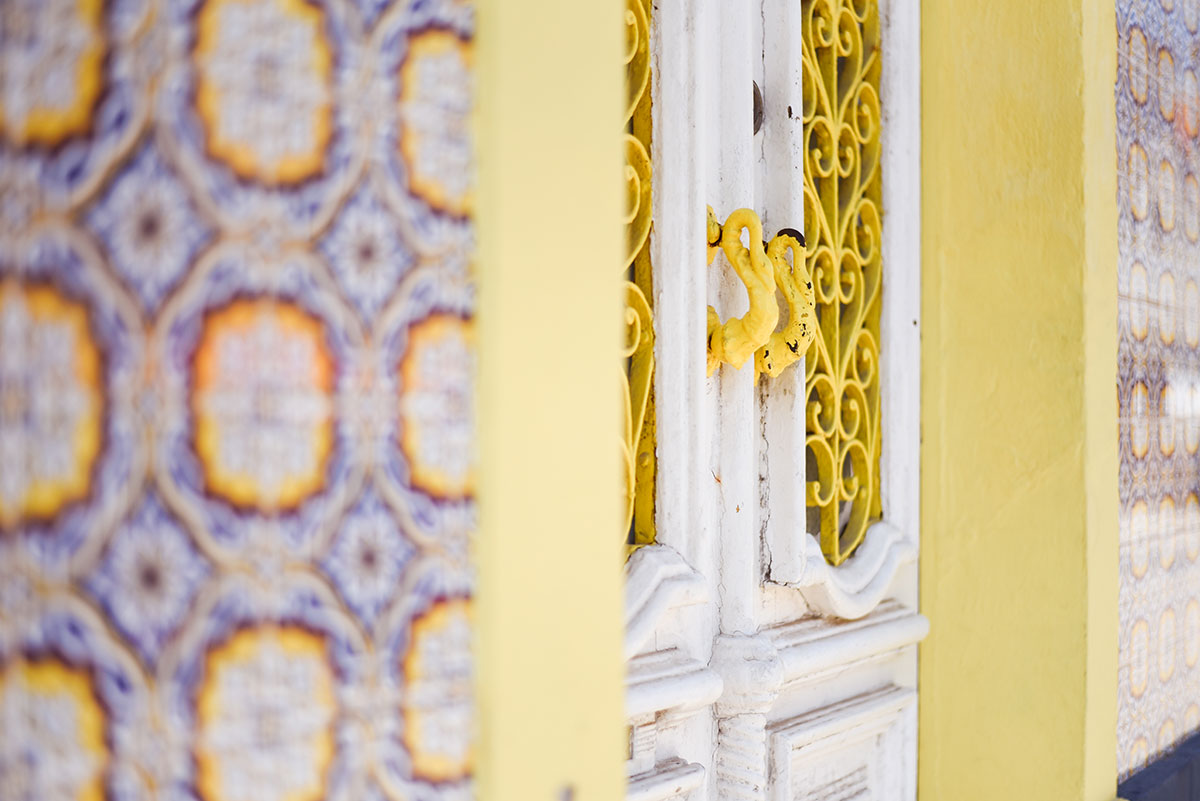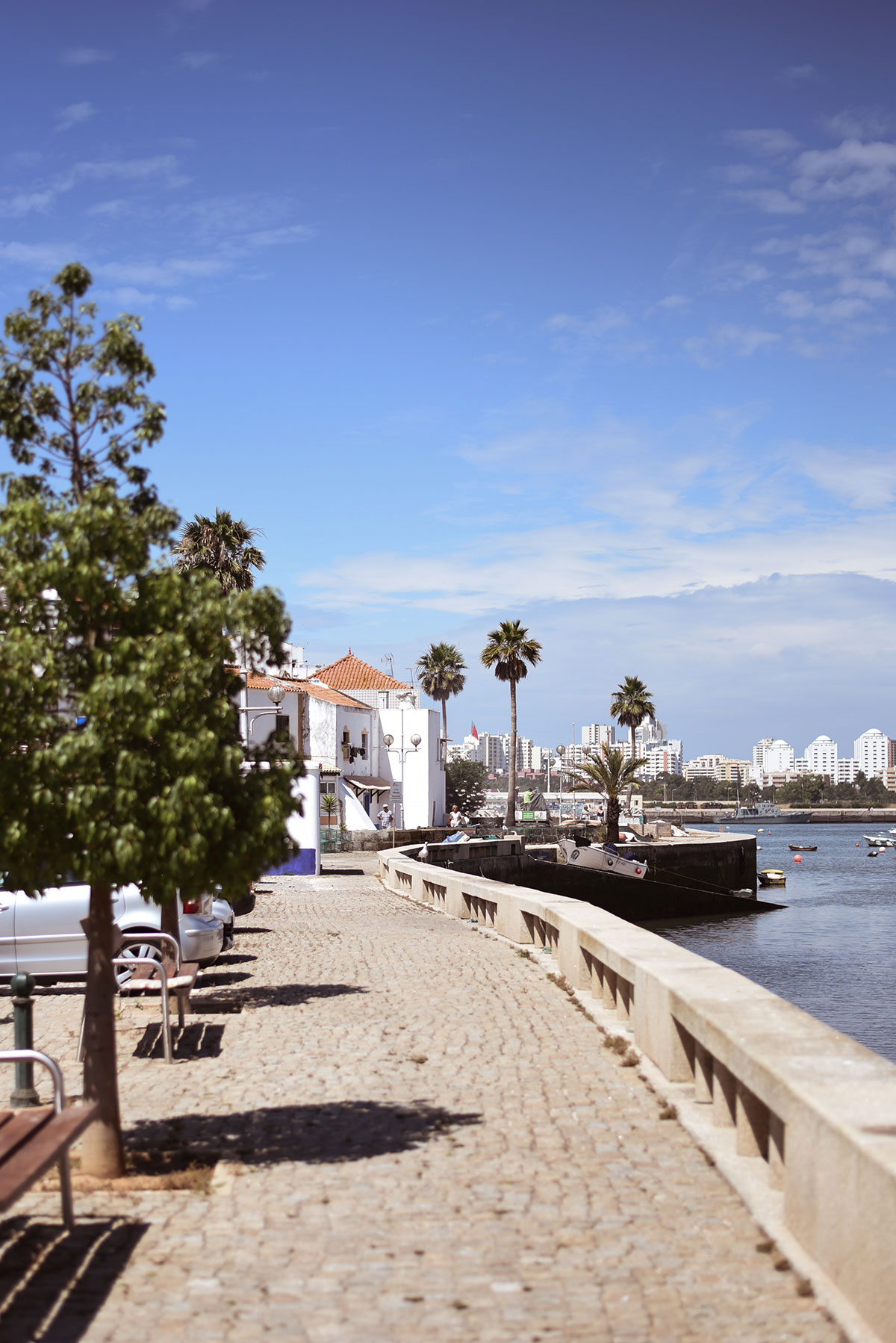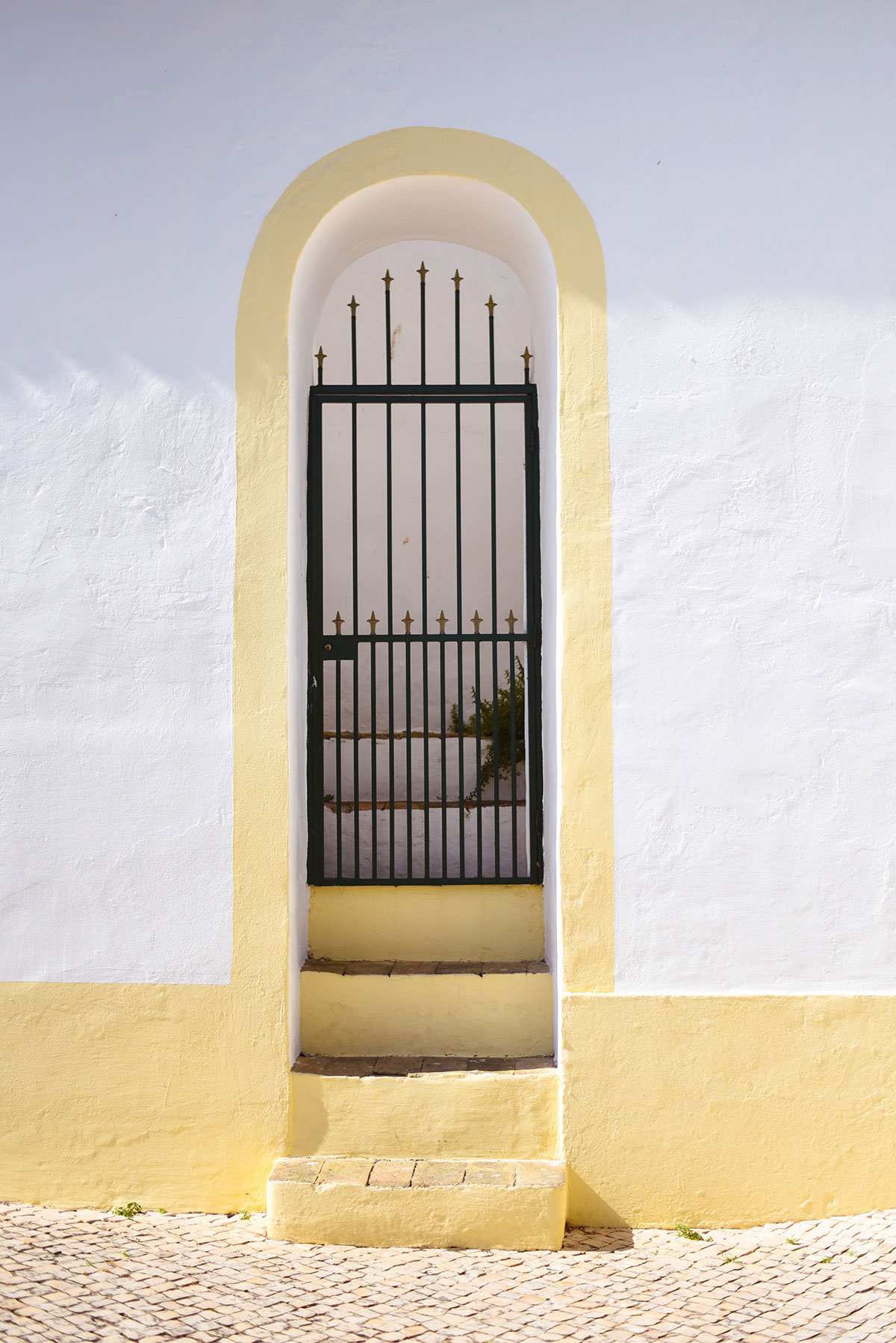 Perhaps though one of the best things you can do is right on your doorstep in Carvoiero – the boardwalk. It hugs those stunning coastline cliffs, is free, open all day and lit by night and it has no stairs, I repeat, no stairs. One hundred percent pram friendly. And if you follow it round to Carvoeiro you see the side of the town that just makes you fall instantly in love and vow to go back…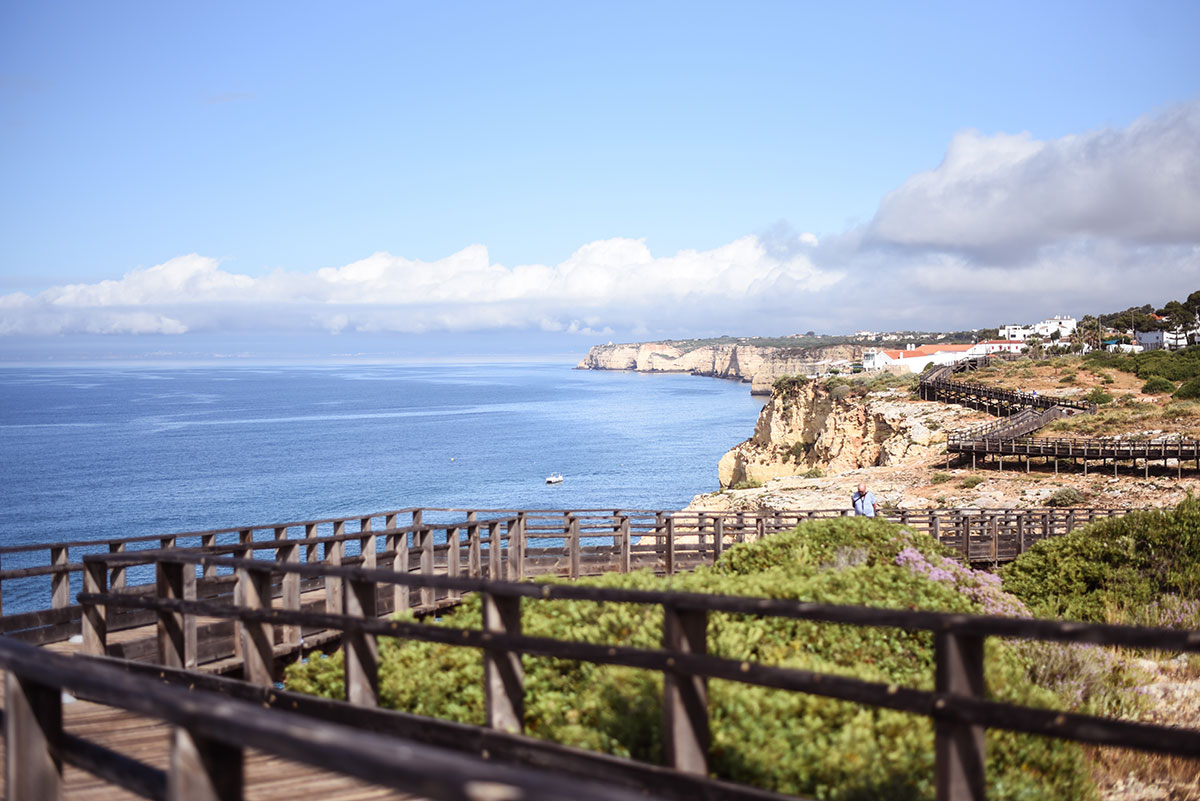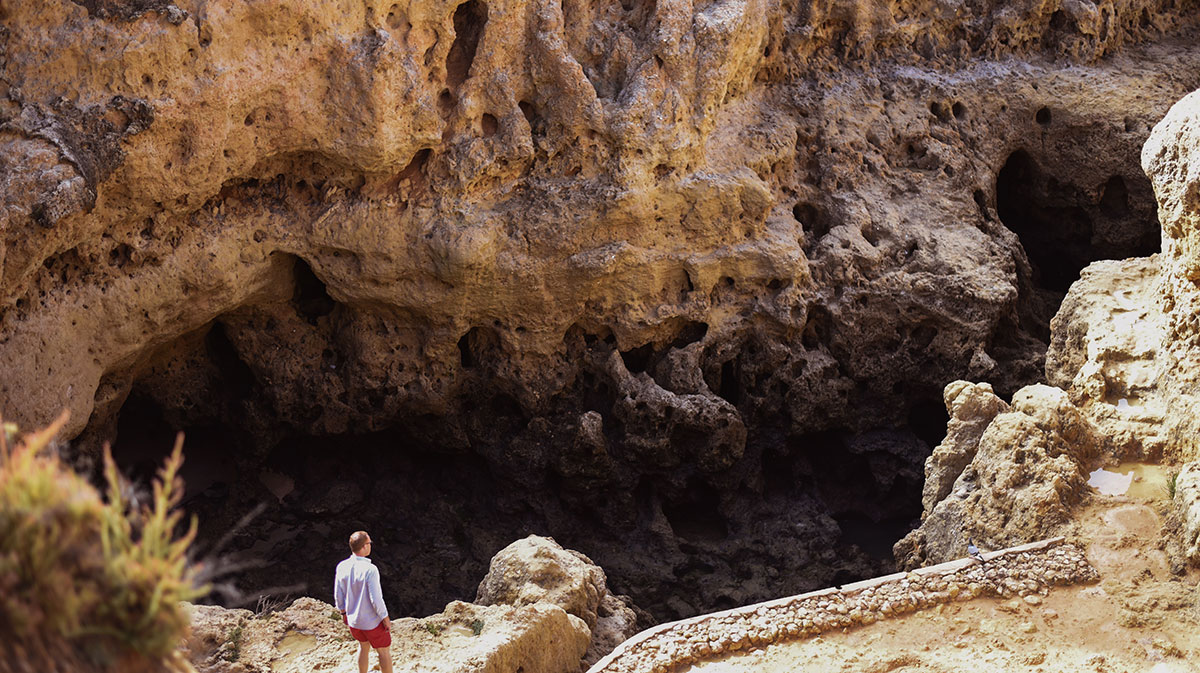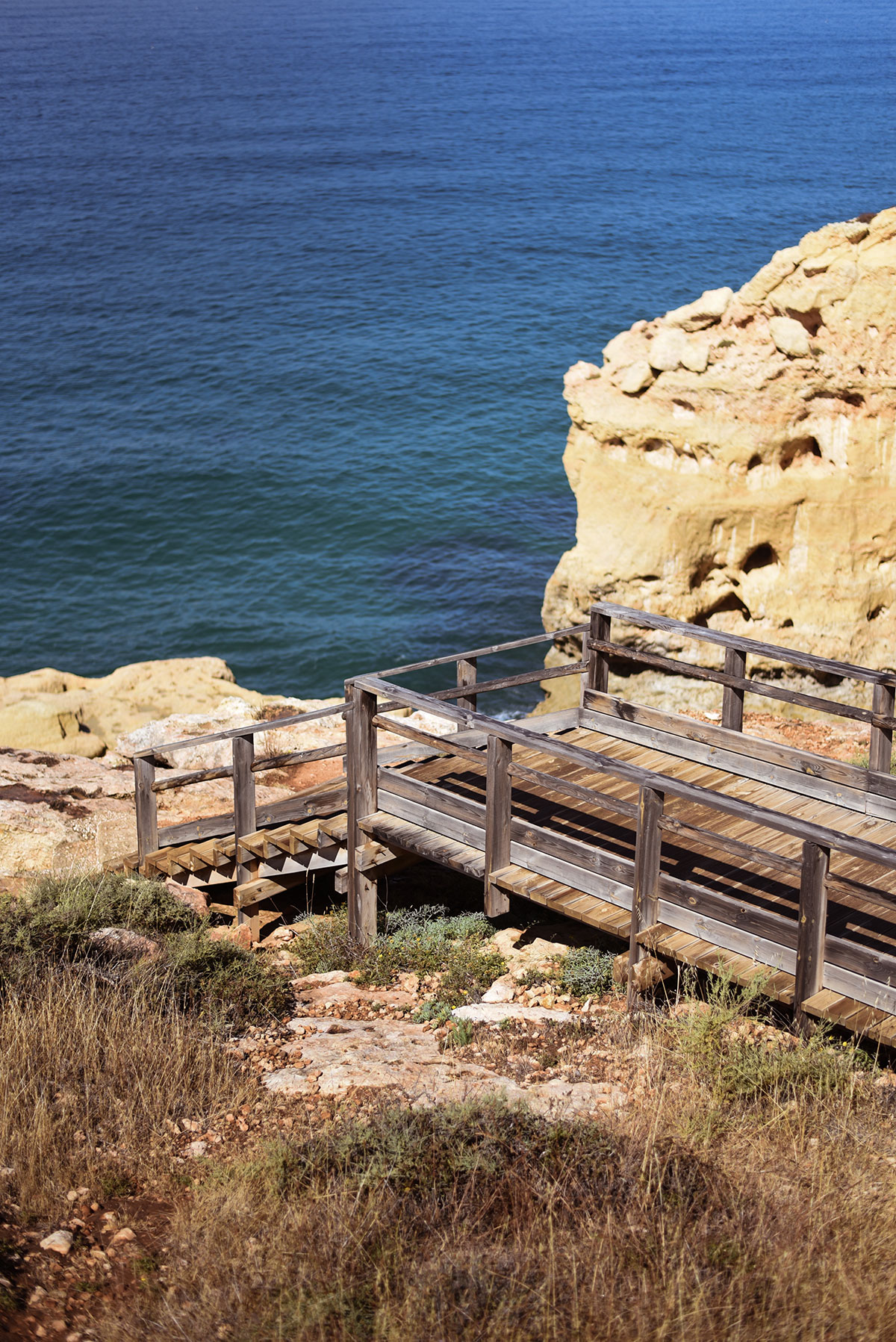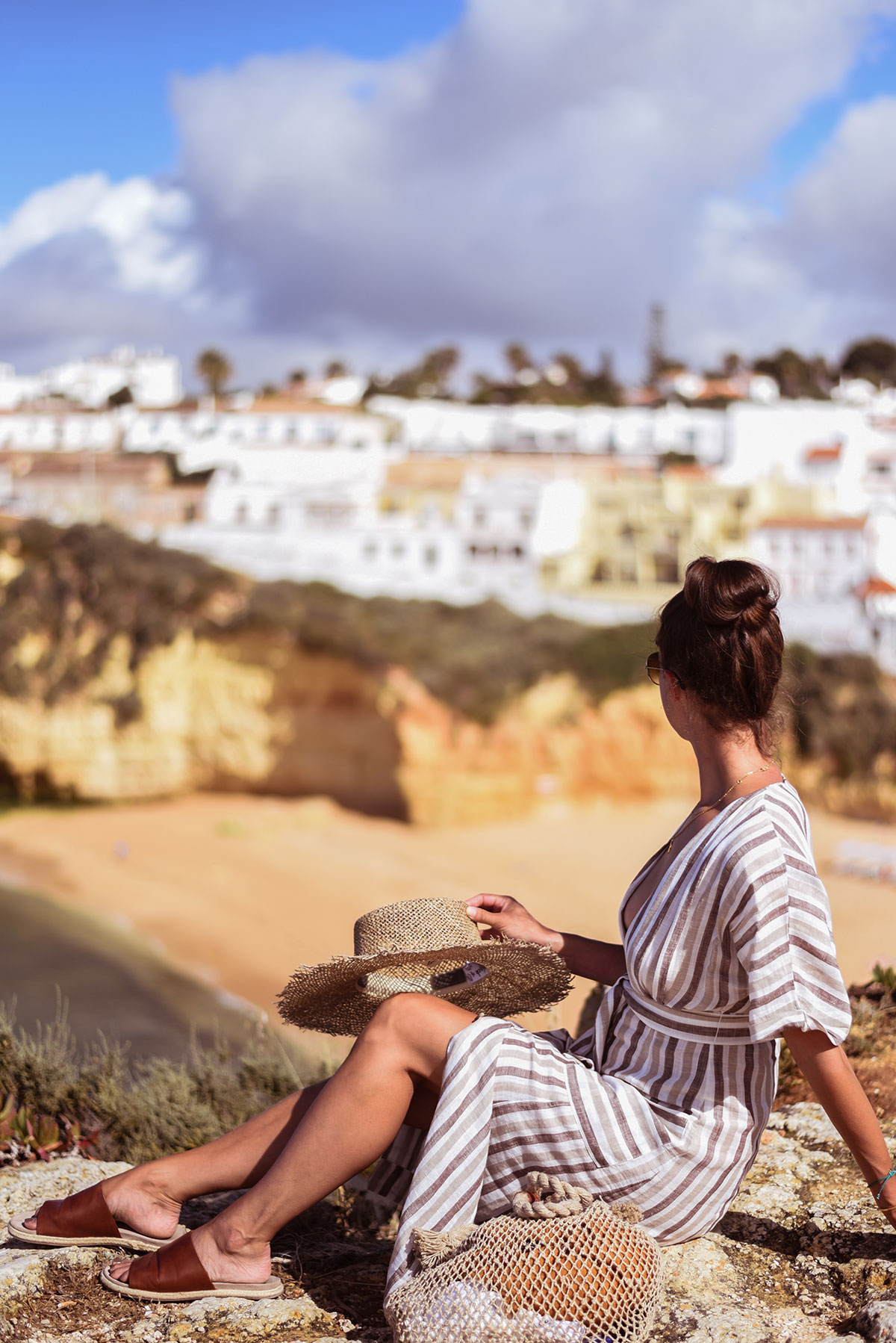 OUTFIT DETAILS
kaftan – Dodo Bar Or
sandals – Next
lemon print headband – Asos
basket bag – Next
monday midi dress – Free People (ON SALE)
sunnydip fray boater – Lack of Color
leather sliders – Joules (ON SALE)
string bag – The Dharma Door