Is it just me or did November creep up behind us and just jump out from nowhere? I mean some days it is cold – not the kind of 'brrr, it's a little chilly and I might need a sweater' cold but the real, biting one that gnaws at your fingers and gets right down into your lungs when you breathe it in. And other days it still feels warm – probably not bare legs warm but maybe a sliver of bare ankles warm?
So I am sat here, on this doorstep that clearly does not precede my own house, trying to find the balance. A warm coffee in my hand helps – that much is decided. And these Glenda shearling sneakers from Fitflop which are just about the best goshdarn thing you could invest in right now and here are three reasons why…
1. The colour. That nut brown suede is so warming – like a gingerbread latte. And it looks good on everyone and with everything. True story.
2. All-day cushioning Anatomicush midsole tech. Sounds complicated? Let me break it down for you – lightweight, hardwearing and slip-resistant, anatomically contoured footbed increasing foot-to-midsole contact, superlight flexible cushioning and flex lines cut across the bottom letting your foot move more freely. In short – they are v V comfy.
3. They expose just the right amount of ankle to look chic with skinny pants and floaty skirts alike (I tried and tested) and they soften the blow of exposing skin to the elements with that super soft, fluffy trim. But just in case you happen to be a huge wuss there is indeed a high top version too.
In other news, Fitflop are having a sale and not just a little sale… it's an UP TO 60% OFF sale (plus 25% off with code EXTRA25) and it launched TODAY. Go.
In collaboration with Fitflop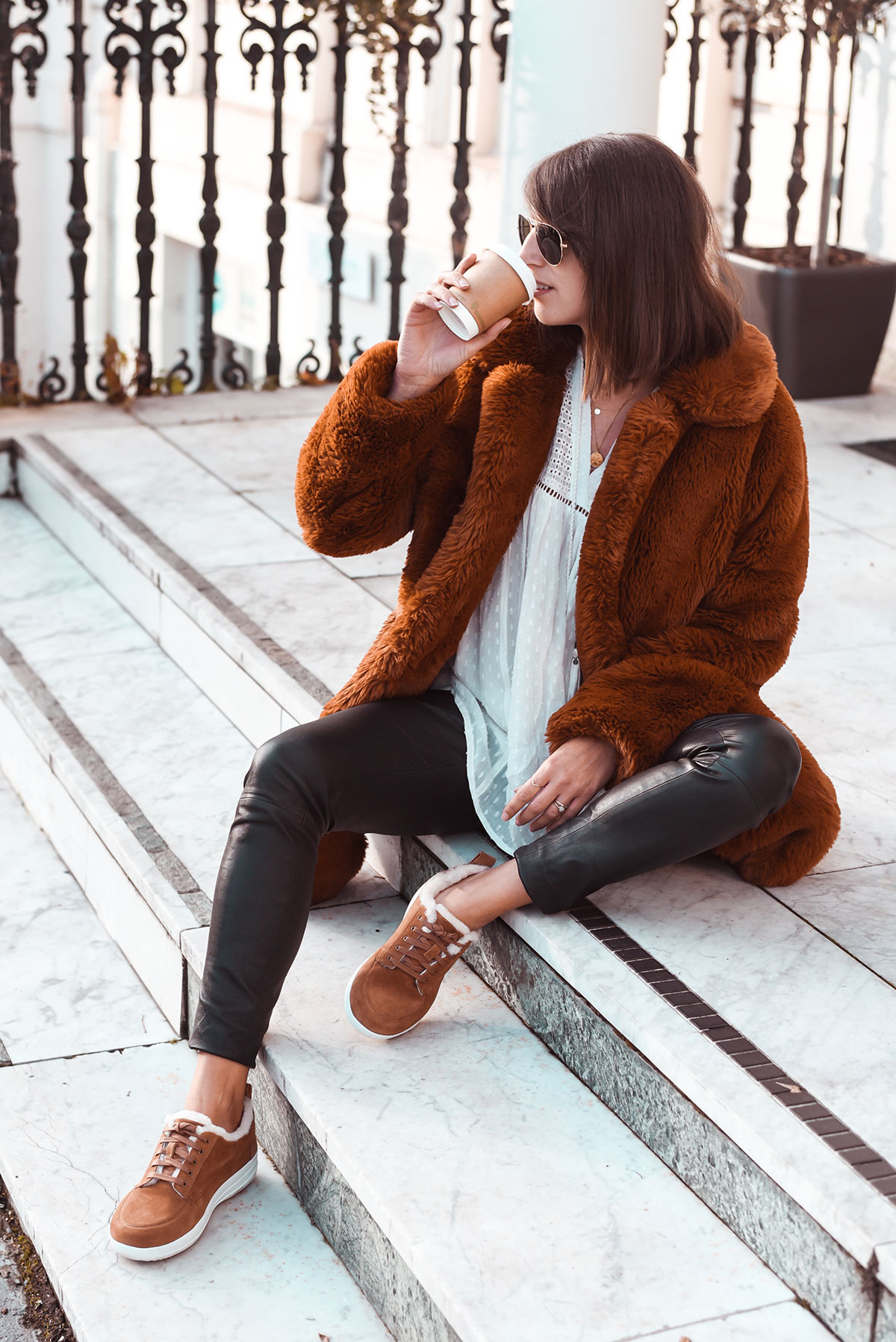 OUTFIT DETAILS
faux fur coat – Karen Millen
blouse – Mint Velvet
leather legging – Boden
Glenda shearling sneakers – Fitflop (25% off with code EXTRA25 )
aviators – Ray-Ban
friendship amulet – Essentia