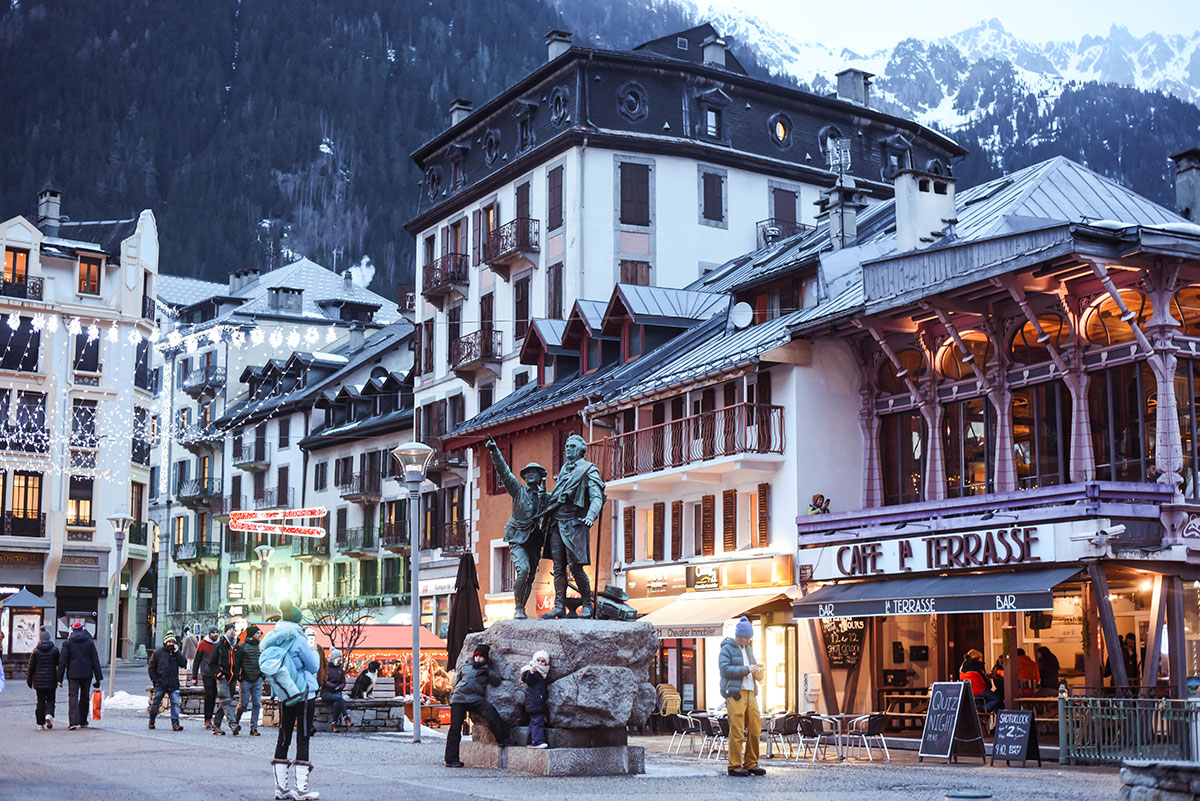 It's no secret that Chamonix holds a special place in my heart and, since this January marked the tenth anniversary of our wedding there, it seemed like the obvious choice for a romantic celebration – a few days away adults only. We are fortunate enough to have visited six or seven times now and there are many reasons we keep coming back so on this trip, with the luxury of time that being child free allows, I wanted to share a travel guide, well, perhaps a hybrid; part travel guide, part photo diary.
Chamonix is a truly beautiful town in the French Alps surrounded by looming mountains, not far from the airport, and, unlike most other ski resorts, has a lot more to offer than snowy pistes (although it has plenty of those too). Scroll down for my tips on where to stay, eat, what to do and how to get there…
STAY
When searching for somewhere to stay in the Chamonix valley you are faced with a LOT of choice so you will be best served by deciding what is important to you – if you want to ski then you need to factor in that the resorts are spread throughout the valley and, whilst ski in ski out is not really an option here, you can choose wisely by taking a look at the ski bus route and choosing somewhere close to one of the stops (unless you have a hire car). For me, the centre of Chamonix is so enchanting that I also want to be within striking distance, by foot, of my favourite bars and restaurants and for this reason we chose to stay at the Heliopic Hotel & Spa.
This marked our second stay at Heliopic (both times paying full price) and whilst it's not cheap, the location is brilliant, close to the main bus station and just a few steps to the centre of town. Their ski shop is on site which we pre-booked for hiring our gear. The free pool and spa area is a real treat with a series of hammams, ice room, saunas, plunge pool and jacuzzi finished off with a relaxation area and swinging cocoon chairs you want to pack into your case and take home. The free hot chocolate station was abused nightly as well as the pick'n'mix (which the husband did his best to convince me was not just for the kids) and the bar offers a nice cosy spot for an après–ski vin chaud.
There are plenty of great Airbnb options (a good rule of thumb is to check Google maps and calculate walking time to Rue des Moulins to see how central you would be) and Hotel des Aiglons is another well situated hotel but, in truth, the Hameau Albert 1er was top of my list but the budget wouldn't allow… maybe for the twentieth anniversary.
EAT
When it comes to eating out in Chamonix you are really spoilt for choice; I booked the hotel on a room only basis purely in order to squeeze in another meal out in town each morning too. Although we had breakfast at the hotel last time we stayed and it was good, when you only have three days you want to make the most of them right? And for around £25 for breakfast for two in the hotel, I figured we could use that money to tick off a few more of our favourite eateries before hitting the slopes. Spoiler – overall it cost more doing it this way but me and my croissant belly don't regret it for a moment.
There are a few spots which hold special memories for us so naturally we revisited those as well as a couple of newbies.
FOR LATE NIGHT PIZZA – Le Caveau
Our flight landed around 10pm in Geneva so by the time we collected luggage, transferred to Chamonix and checked into the hotel it was already midnight. Undeterred by the late arrival and keen to squeeze in an extra meal we headed directly for Le Caveau – an underground wine cellar converted into an atmospheric restaurant and one of the few serving food till late (we ordered around 12.30am and by this time the menu is reduced to pizzas and salads but that suited us fine). You are greeted with an old school fiery pizza oven and the resident dog by the bar. The prices are good, for Chamonix at least, and the food is great – we hosted a pre wedding pizza party here for all our guests the night they arrived in town if you need further convincing. The entrance is not immediately obvious from the street as the door is somewhat unassuming amongst the sea of other places spilling out onto the street but it's well worth searching for, just ask a local if you're having trouble.
FOR BREAKFAST – Josephine
In the heart of town and pretty enough to grace your Instagram grid, Josephine was new to us and was popular enough each morning to plays host to a buzzy vibe. Although it's open all day we only had the chance to stop in for breakfast and, whilst not cheap, the 8€50 cheese and ham omelette was without a doubt the best I have ever had – I couldn't finish it and it still set me up for a full day on the slopes with no space for lunch (and if your bank balance is on your mind, eating on the pistes is something perhaps best avoided). The 6€ hot chocolate 'gigantique' would be more aptly described as 'petit' but was beautiful none the less. This place will definitely be on our hit list for future Chamonix visits, perhaps to try out the shellfish bar or cosy up with the blankets for an evening al fresco meal… the atmosphere is a winner here.
FOR SOMETHING CHEESY – Le Monchu
On a quest for traditional mountain food you will not struggle – in fact you would be hard pushed to find any restaurant that doesn't feature fondue on the menu. But, for me, I want to indulge in my pot of molten cheese in an equally cheesy setting, surrounded by antique milk jugs, cow bells, furs and fairy lights and Le Monchu ticks the boxes without feeling too touristy. The fondue aux cèpes was a true delight.
FOR ROMANCE & FINE DINING – La Cabane
Back to where it all began… La Cabane des Praz, our wedding venue, is a giant log cabin nestled on a snow covered golf course and, whilst a little out of town, it is, in my opinion, well worth the trip. Take the ski bus, hop off in Les Praz and within a three minute walk you will arrive in front of La Cabane, glittering with lights. I personally find the setting completely magical, although granted I did get married here, and the food is incredible. The chef gladly accommodated my garlic allergy, whipping up a fresh risotto for me (unheard of in the UK), and the meal was worth every cent of its fairly hefty price tag.
FOR MODERN ELEGANCE IN THE CENTRE OF TOWN – Le Cap Horn
Although we didn't visit this time, I could not leave Le Cap Horn off the list – see a review from our previous trip here.
FOR AN AUTHENTIC CRÊPE – Street food
No. 1 on my list for Chamonix was a crêpe and, following some good reviews, on our first morning we headed for La Ferme only to be sorely disappointed with a sad, cold pancake BUT what I would say is that there are a couple of street vendors dotted about, for sure there is one on the main street, Rue du Dr Paccard, where you can be guaranteed an excellent, fresh crêpe or galette. Another of my favourites is Le Creposaure in Les Houches so if you happen to be there for the day I can highly recommend skiing down Le Kandahar, a fantastic world cup piste, which finishes directly opposite.
OTHER PLACES WORTH A MENTION
Rue des Moulins is a most charming little alley which plays host to a number of bars and restaurants and, had we had more time, we would have certainly tested the extensive buratta menu at Pizzerie des Moulins for a casual evening and perhaps popped into Le Chaudron for a more upscale meal. Maison Carrier, the traditional restaurant belonging to Hameau Albert 1er, is also a special place, offering a glimpse into how the other half live nestled in the grounds of the stunning boutique hotel – pop to the hotel bar for a drink and follow with the 34€ 'menu du jour'.
Images above of Josephine
Images above of Le Monchu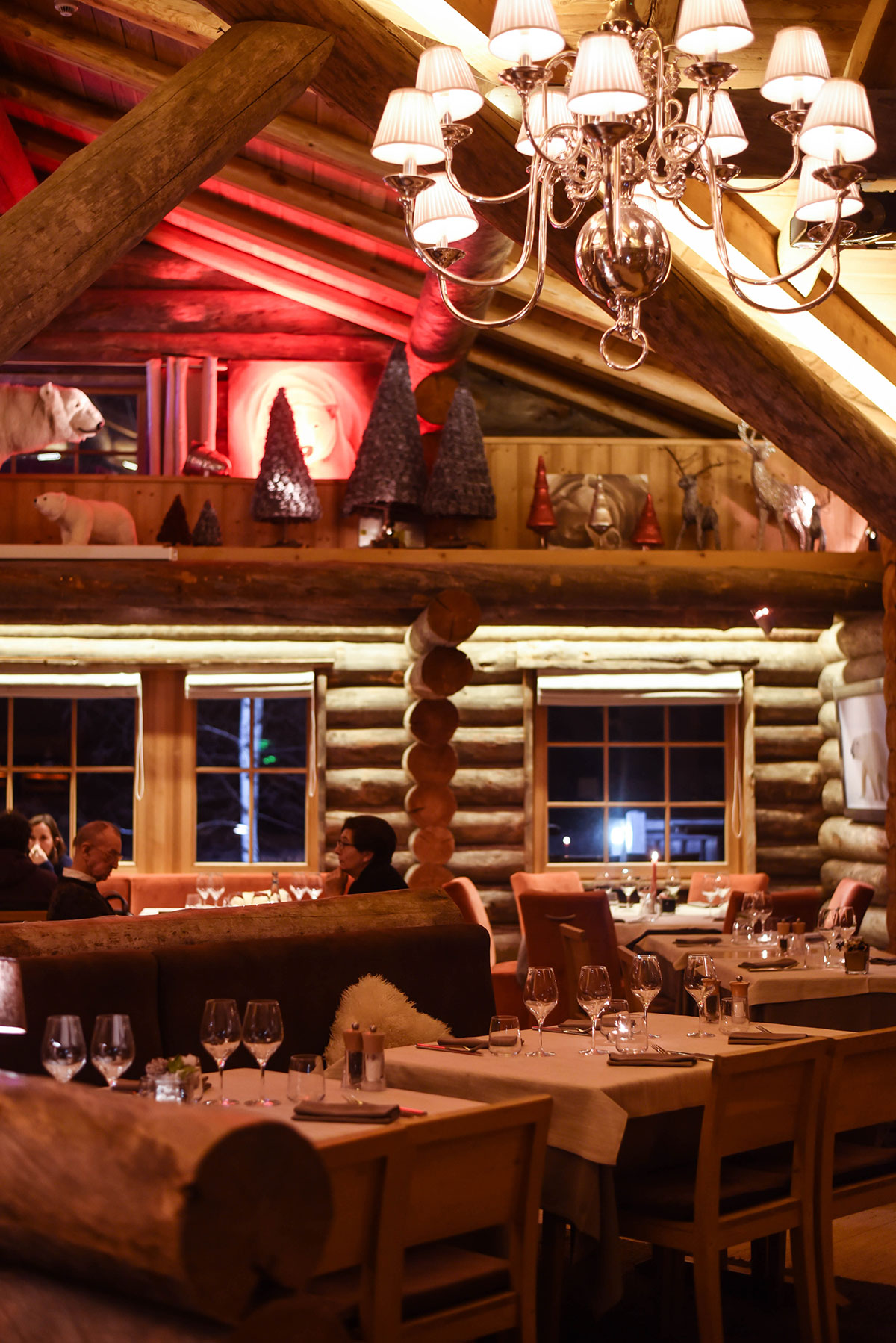 Images above of La Cabane
DO
SKI
Of course skiing must top the list because Chamonix has some of the best. Compared to other destinations you could class it as slightly more challenging and not just because of the terrain but perhaps also because, unlike other purpose built resorts, it is not straight forward to navigate – the skiable domains do not link (with the exception of Brévent and Flégère by cable car) and ski in ski out accommodation options are pretty non existent. There is however a free ski bus which runs to a regular timetable all day (during peak times in peak season though do be prepared to get your elbows out to secure your space). Les Houches remains my favourite area to ski, followed by Le Tour at the top end of the valley, for the beautiful alpine skiing, slightly quieter slopes and the most epic piste, the world cup favourite, Le Kandahar.
OUTDOOR PURSUITS
There is far more to Chamonix than just skiing though – take your pick from cross country and snow shoeing to a trip to the Grotte de Glace, a walk inside an ice cave accessible by the mountain railway Montenvers. The Aguille du Midi cablecar will take you from the centre of town and elevate you to the highest point in the valley where you can choose to settle your stomach at the restaurant or test your nerves by stepping into the void, a glass box suspended over the valley. For those not partaking in snowsports but still craving the moutain snow underfoot, take the tram up high into Les Houches, amongst the pistes and step off to enjoy a warm drink on a deckchair at La Chalette.
SHOP
Chamonix is a rarity amongst ski towns in that there is enough scope to realistically spend the afternoon shopping – outdoorwear shops galore of course but also beautiful chocolate, macaron and local specialty shops as well as a good smattering of afforable coat and boot shops (under usual circumstances I would never advise stocking up on your winter essentials after arriving, but in Chamonix there are always bargains to be had). The Chanel shop seems to have moved on however and been replaced by Ralph Lauren, nestled under the Grand Hotel des Alpes.
APRÈS-SKI
Surely one of the best things about skiing is the après? My favourite is al fresco but in Chamonix it can be a little tricky to source the perfect outdoor terrace… My spot of choice to warm the fingers with a vin chaud is at the outdoor bar Brasserie de L'M, snuggled by the fire heaters plus, if you time it right, you might catch a glimpse of Chamonix old timer Dr Zhivago. It seems La Folie Douce have just recently branched out into Chamonix too and, whilst I can't personally recommend as we didn't visit, usually you can rely on a nice atmosphere at their places (at least at the après hour – things can get a little crazier later into the night). If you're ready to move indoors then Rue des Moulins is essentially Chamonix's version of Glasgow's Ashton Lane, housing a fine selection of bars, restaurants and partying into the small hours is an option here too if that takes your fancy.
SPA
As I already mentioned the spa at our hotel, Heliopic, was really incredible and one of the loveliest treats to indulge in post pistes is a soak and a steam. Many of the hotels have spa areas but few are as lovely as this one. If you find yourself in search of an independent spa then QC Terme is your spot – it's not cheap but looks sublime.
GETTING THERE AND GETTING AROUND
FLY
Fly direct to Geneva – with Easyjet from Glasgow (or Edinburgh if widweek) and you're only a hop skip and a jump, ok more like an hour, from Chamonix. Do yourself a favour and book speedy boarding for the return journey at least, especially if you are travelling at the weekend or during high season, because Easyjet check in/bag drop at Geneva airport is nothing short of a sh*temare… believe me when I tell you this can take well over an hour alone and that's before you even tackle security.
TRANSFERS
I have plenty of experience in hiring cars, which believe me has its advantages if you want to explore or avoid the ski bus, but it is often costly and not always straightforward. Hiring from the French side of the airport is usually around thirty percent cheaper but be aware that you will need to collect luggage and then traipse it through border control (Geneva airport borders France and Switzerland) within the airport before collecting your car and vice versa for the return journey so build in some extra time for that. And then you have the roads to worry about and I don't mean the snow chains and all that jazz, although you could well have that to deal with too, I mean the actual roads. If you hire from the French side you are obliged to embark upon a complicated maze of roads winding round the back of the airport in order to avoid the regular Swiss border – one wrong turn and you're looking at dropping a quick £30 on a Swiss road Vignette (a sticker required by law to drive there).
So… this time we opted for a shared transfer. Whilst a private transfer would have been nice the price was prohibitive and the extra money better spent in my opinion at the shellfish bar in Edinburgh Airport so we opted for a shared transfer. We booked through our hotel concierge with Mountain Drop Offs for 80€ p/p return – the service was good, with text notifications regarding pick up points and times, etc., if a little drawn out what with waiting for other passengers and dropping off at various other points en route to the hotel.
GETTING AROUND CHAMONIX VALLEY
The free bus network within Chamonix is excellent, running approximately every twenty minutes and operating various lines, and it has to be really to accommodate the floods of skiers going to and from the different resorts. Technically you need a ski pass to ride for free although I have never seen anyone asked to produce one. It is worth noting that in the evening the service runs less frequently and turns into the 'Chamo'nuit' bus – the exact same bus, it just costs 2€ per journey (no change given).
Honestly, this was one of the most romantic trips I have ever been on. Perhaps it was the treat of being away for the first time just the two of us. Perhaps it was because this is where we got married with our best friends and family. Perhaps it was the twinkling lights and traditional architecture of the beautiful town set against the drama of the snow covered mountains. Perhaps it was the alpine scenery because, honestly, there was one morning when I had a tear in my eye on a chairlift in Les Houches as we glided silently over the untouched snow and the heavy firs and the light was just perfect. Perhaps it was the fresh air and the chance for my mind to truly be at peace. Perhaps it's just Chamonix. Until the next decade…
*Denotes affiliate links
OUTFIT DETAILS
shearling scarf – Gushlow & Cole* (gift)
faux fur coat – Karen Millen (gift)
bag – Radley* (gift) (ON SALE)
jeans – Zara
boots – Fitflop (gift)
blouse – Zara
beanie hat – Gap* (ON SALE)
cardigan – Asos*
bag – Radley* (gift) (ON SALE)
faux leather leggings – Mint Velvet*
boots – Sorel